Sire:
AUCKLAND REACTOR NZ
Location:
Maiden Gully, VIC
Retrainer:
Maree & Holi Campbell
Contact:
Maree Campbell 0417 124 178
Heir To Zanzibar retired due to a Tendon Injury back in February 2022, he has been spelling since. He is a beautiful bay boy with 3 white legs. He is good to lead and tie up, paddocks safely with other horses and behaves for the farrier. More information to come as his retraining progresses.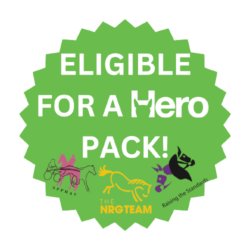 STANDARDBRED HORSES REHOMED VIA A HRV HERO RECOGNISED RETRAINER WILL RECEIVE A PACK INCLUDING THE FOLLOWING ITEMS:
– 2x Lessons with a Hero retrainer, paid for by the HRV Hero Program
– Certificate
– Hero Cap
– NRG Gift pack valued at $100
– Free SPPHAV horse and member registration
– Free Raising The Standards educational course
– Complimentary Equissage consultation