Location:
Carisbrook, VIC
Retrainer:
Clearview Equine
Contact:
Bri Anderson - 0421 302 582
Jimmy is a lovely type, brown, almost black with a white star and 3 white socks. He retired in February 2023 due to a respiratory issue affecting his racing performance, he has been in regular light exercise since. Jimmy underwent a nerve graft procedure to the left CAD muscle to alleviate obstruction to his breathing under race conditions in March 2022 but was not successful.
Jimmy does not have any vices, his owner advises he is very easy to handle and catch, happy out in the paddock, yarded or in a stable. He is a calm, friendly horse who stands, leads, floats and is very cooperative in every situation. He has been exposed to dogs, farm animals, machinery, vehicles and small children. He can be paddocked safely with other horses and behaves for the farrier, he is currently shod.
Worming: 31/05/23
Farrier: 13/07/23
Dental 20/12/23
Vaccination: 20/12/23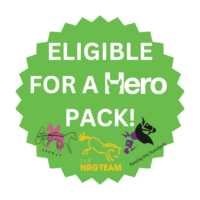 STANDARDBRED HORSES REHOMED VIA A HRV HERO AFFILIATE RETRAINER WILL RECEIVE A PACK INCLUDING THE FOLLOWING ITEMS:
– 1x Lesson with a Hero retrainer, paid for by the HRV Hero Program
– Discounted Raising The Standards educational course
– Gift from The NRG Team
– Certificate
– Hero Cap
– Free SPPHAV horse and member registration
– Complimentary Equissage consultation