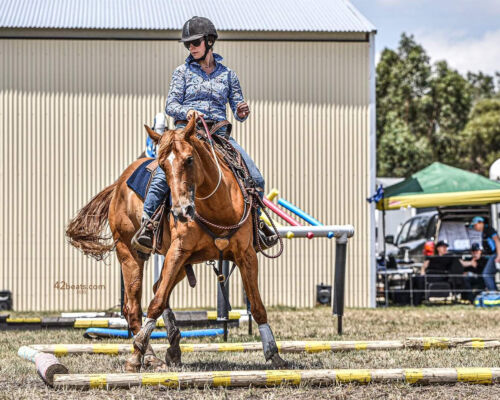 Location:
Carisbrook, VIC
Contact Number:
0421 302 582
Tell us a bit about your background
.
 I've been riding horses since I could sit up on my own! I got my first horse at 11 and he taught me a lot. For the last 23 years, I've retrained standies off the track and successfully shown my quarter horse in ranch trail and EXCA events across Victoria.
What is your favourite thing about the standardbred breed?
 Standies are well known for their temperament and trainability. I love that they are well-exposed, quick learners and once you have their trust, their quirky personalities shine through.
What do you enjoy most about the work you do?
 I get a lot of satisfaction from helping standies find a new life after racing. Each horse that comes through my training program teaches me something different about myself. No two horses are the same, and I really enjoy figuring out the best way to work with each one.
What do you enjoy doing outside of your regular work?
 Outside of horsing around, I am a Nurse Manager and have two border collies and a sausage dog. My partner Anthony is a Clerk of Course for HRV, so I spend a lot of time at the races with him too.
What is the best way to contact you?
Facebook messenger is probably the easiest way to get in touch, but phone calls are also good!