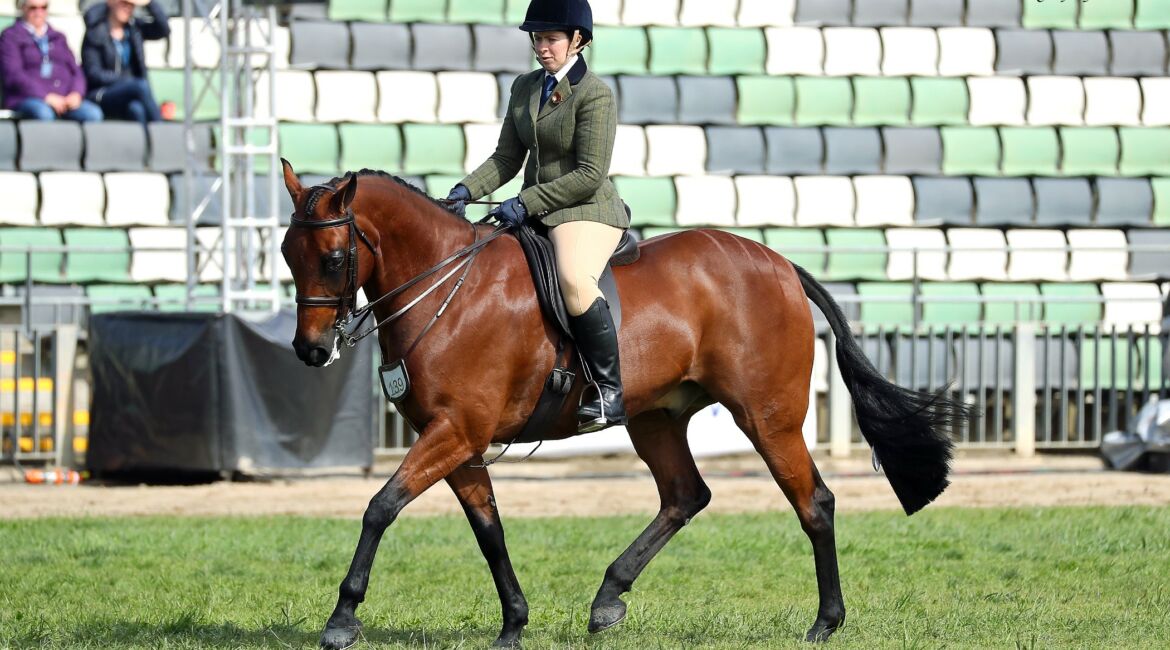 It was a moment over six years in the making, as the little bay standardbred strode onto the Main Arena with his neck brand flashing the crowd proudly.

As exceptional an achievement it was, to have a pacing-bred standardbred qualify for one of the most competitive classes at the 2022 Melbourne Royal, the prestige of the event was not the only point of significance.

To rider Katie West, the experience was written in the stars; a tribute to her late father, reinsman Michael Hayes, who had started the gelding in harness prior to his show career.
Future Bliss, or Barry is he is affectionately known to his friends, was purchased at the 2012 standardbred yearling sales by Mr Hayes in partnership with friend Frank Jessop.

Barry took to his harness training with enthusiasm, but strains to his tendons cut his career in racing short, before he could even make it to the trials.

Although his sensational nature made him the perfect stable nanny, it was noted that Barry, at just four years old, was simply too young and nice a type to find himself in retirement.

In 2016, Barry was entrusted to one of Mr Hayes' daughters, Katie, with a glimmer of hope that he one day could be the standardbred to make it to the top of equestrian competition.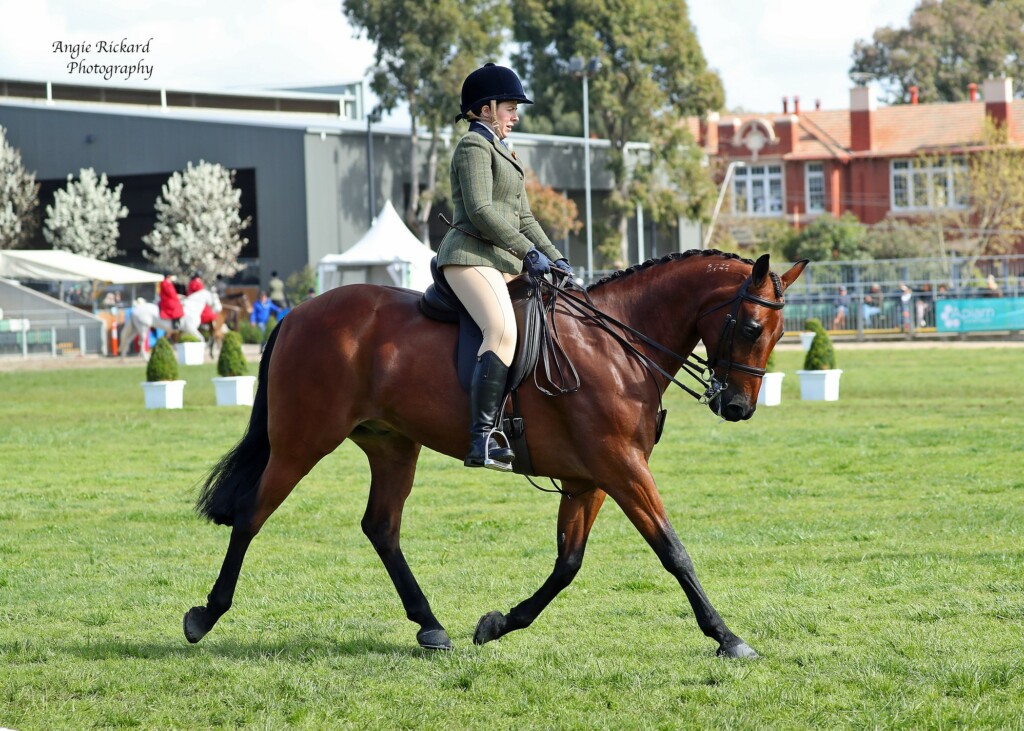 With horses in her blood – a reinsman father, a mother who successfully campaigned a young horse she'd broken in as a twelve-year-old novice rider and a sister who shares her penchant for ponies – Katie initially welcomed Barry into her herd as a companion to her show horses.
It was a case of perfect timing, as Katie's focus on her competition horses meant Barry's introduction to ridden life was free from any expectation or pressure to meet any particular deadlines or events.
Katie's sister, Emma, initially broke Barry to saddle and he was steadily guided to develop his confidence and skills as a riding horse.
"It's quite fortunate that Barry has such a natural three-beat canter", explains Katie, when asked about the pair's training.
"Despite this, he struggled to pick up his weaker canter lead under saddle. It took a good two years of trying some different tricks and allowing him to strengthen up and find his rhythm before it really clicked for him".
This glimpse into Barry's history validates Katie's advice to standardbred owners to "take it slow", when working with their off-the-track harness retirees.
"It's so important to recognise that every horse is different and to take the time to build a relationship. Give your standardbred time to find his/her feet; get to know their personality and what training regime works best for you both.
"Most importantly, treat your standardbred like any other breed of horse; they'll get the hang of things as they go along".
Across the 2019 season, the pieces fell into place and Barry and Katie hit the show circuit with gusto. Chalking up seven wins from nine highly-competitive agricultural shows in the Show Hunter Galloway section, Barry and Katie had reached their dream and qualified for the 2020 Melbourne Royal Show.
Unfortunately, the pandemic put a pause on equestrian events and there was a long two-year wait before Barry and Katie would get their chance to shine at Melbourne.
After an unseasonably wet winter and start to spring in 2022, the pair were unable to train at home safely. Katie made the decision to give Barry every opportunity to put his best hoof forward at the Royal, by sending him off for some final training in the lead up to the event.
Barry was sent to professional trainer Tash Rogers, of Bromleigh Park in Euroa, for eight weeks of pre-Royal boot camp.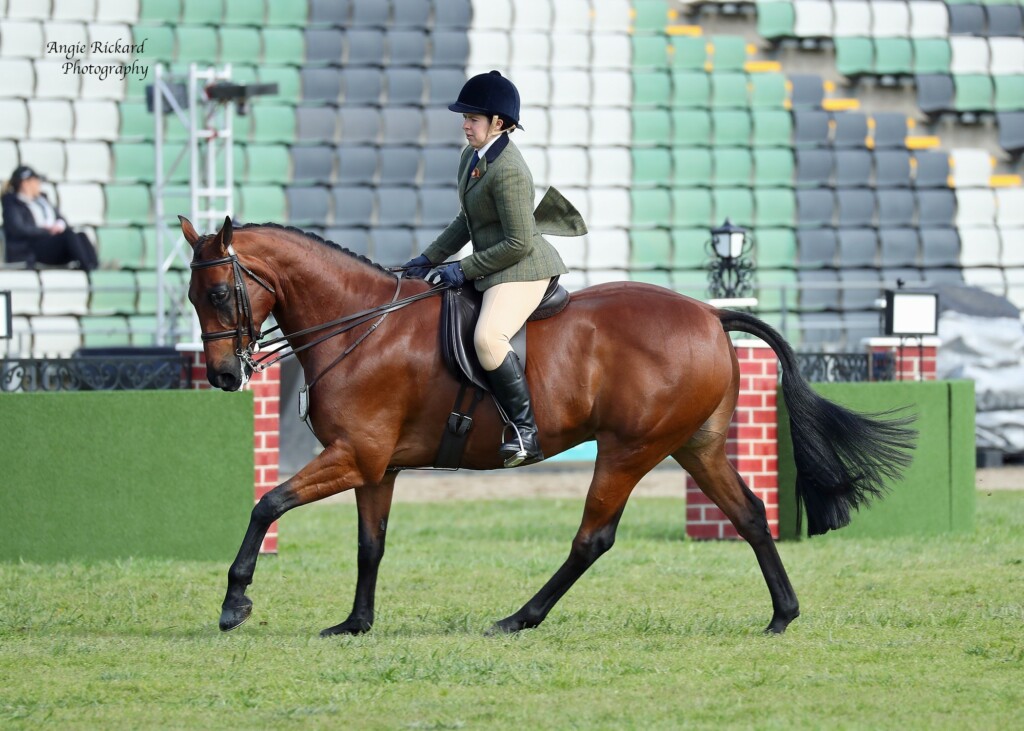 "I felt I really owed it to Barry to ensure he was able to train through the wet and be fit and ready for the Royal. Tash has done such a tremendous job with getting the best out of him and I have a lot to thank her for", Katie explains.
"I drove up on the weekends to train with Tash and also took Keira Barton, the rider who was to compete with him in the Child's Show Hunter Galloway class, for a couple of lessons.
"We even managed to squeeze a show in the week before the Royal as a freshen-up, which was a great success, despite the torrential rain!"
This sense of team work and dedication paid off in the end, with Katie and Barry doing themselves, their team of supporters and standardbreds incredibly proud across their Melbourne Royal campaign.
From stabling for several days in the noisy Melbourne Showgrounds, negotiating "sticky" surfaces, bustling warm-up arenas and lining up against some of Australia's most successful horses within their height range, Barry took everything in his stride.
Barry and Katie were to contest five events – Novice Show Hunter Galloway, Lady's Show Hunter Galloway, Show Hunter Galloway Gelding, Providence Cup and Child's Show Hunter Galloway – across two jam-packed days at the Melbourne Royal.
However, with Barry giving his all in every workout and showing early signs of fatigue, Katie decided to withdraw him from two out of the five scheduled events, to leave enough energy in the tank for Barry to perform well in the Child's Show Hunter Galloway class; a decision which exemplifies the conscientious horsewoman Katie is.
Watching Barry diligently carry Keira around a was a highlight for Katie, who cites "many happy tears" being shed across her Royal experience.
"I couldn't have asked for any more of Barry. He gave us everything and produced some of his best work ever. He is a champion; such a gorgeous boy who more than held up his end of the bargain.
"It was never about winning. Competing in open classes at the Melbourne Royal was about showcasing what standardbreds can do. It was about getting out there, having fun and making my dad proud", says Katie.
And there certainly is much to be proud of, with Barry and Katie earning many achievements over the past few years together, in the show ring and even turning their hoof to other performance disciplines.
The pair have brought home countless ribbons and garlands, are the current SPPHAV Intermediate Standardbred State Show Jumping Champions, graded to Level 3 in HRCAV Dressage and their Royal Show experience now points them up into Level 1 HRCAV Showing.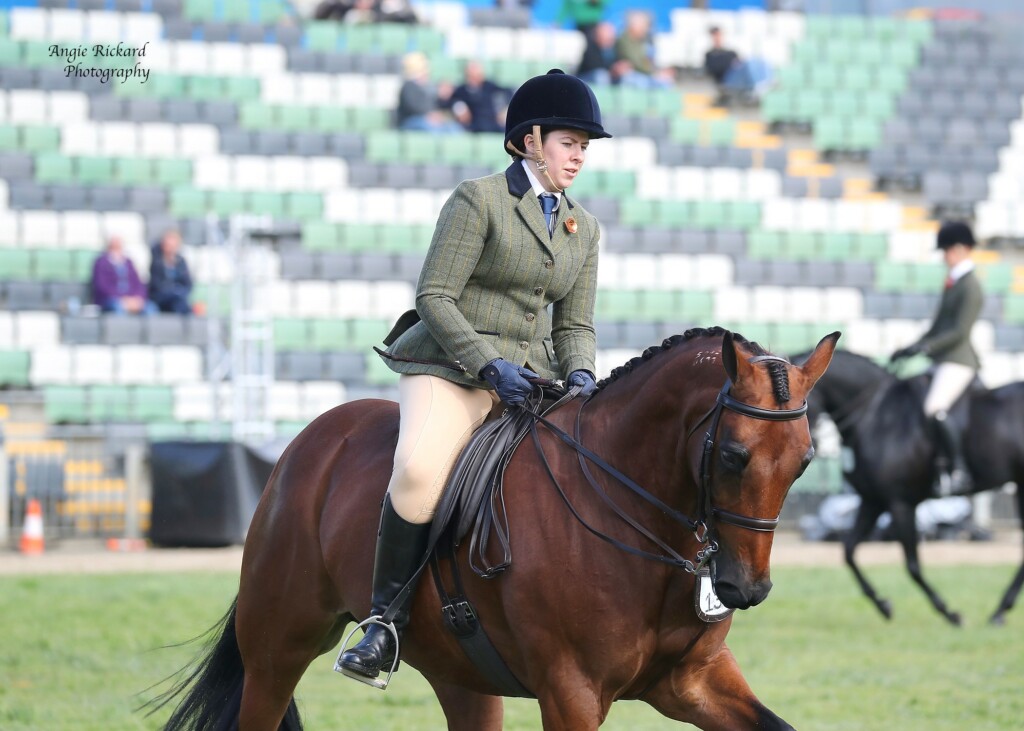 Katie envisions that the next twelve months will be about consolidating their partnership and allowing Barry to get out and gain more experience in the varied training he enjoys.
"I can see us doing a bit more jumping, getting out to HRCAV rallies – with the pair members of the Central Standardbred Riding Group – participating more in standardbred breed show classes and we're really looking forward to attending Equitana to meet the crowd.
"My sister and I bought matching halters in my dad's racing colours, with Team Hayes inscribed on them, which arrived about two weeks before he passed.
"It's really special to have the opportunity to continue dad's legacy, through Barry's achievements. Dad always supported me and believed Barry and I could do anything we put our minds to and I think our recent accomplishments are proof of this".
You can visit Barry and Katie at Equitana Melbourne on Friday November the 11th in the Breed Village.