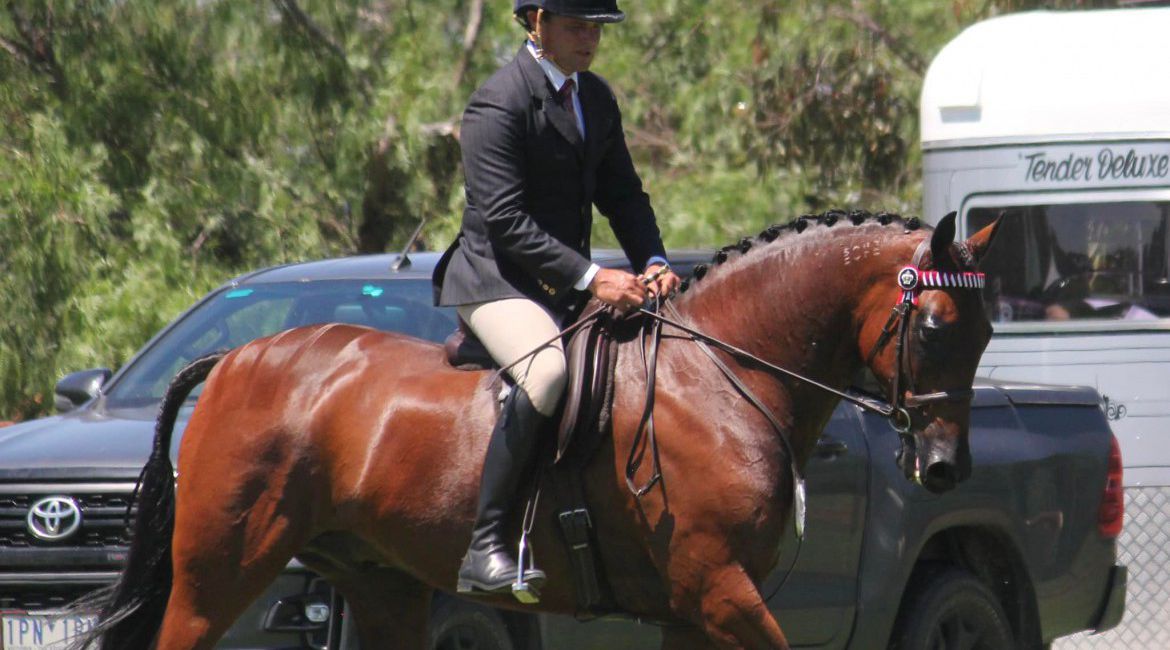 With more than $185,000 in earnings Kasbah Kid proved himself a high performer in just over three years as a pacer and now he's making a name for himself off the track.
Hollis, as he is otherwise known, was trained by Geoff Webster and campaigned in partnership with highly-respected thoroughbred trainer John Hawkes.
He retired in late 2020 as a result of a leg injury that prematurily curtailed his competitive career. He responded well to rest, allowing him to join The HRV HERO Program and embark on a life after racing.
A sensational type, Hollis quickly caught even the most discerning of eyes within the HRV HERO team.
He was identified as a quality show prospect and entrusted into the care of Mitch Fox and Brooke Sweeney at Fox Equestrian.
Since retirement, Hollis has been on a steady journey of body reconditioning, health, fitness and ridden education.
A solid six-month window to work with Hollis at home produced a really polished horse to start his showing career in January 2022.
Three major shows were selected for Hollis to introduce him to the competition circuit.
The plan was to enter him in his led class only at his first show, which would allow him to take things steady, see how he handled the atmosphere and give him an opportunity to absorb and process the new environment.
Hollis' first competition was in January at the Victorian Agricultural Championships at Bendigo. He won his led standardbred gelding class and went on to be declared Victorian Agricultural Champion Led Standardbred.
After Hollis handled his first show well, the Fox Equestrian team opted to show him both in hand and under saddle at his next competition.
Hollis' second competition was at the end of January at the SPPHAV Standardbred State Championships at Werribee. There he was sashed the Champion Led Gelding and Supreme Led Standardbred. He then made his debut under saddle to win 1st Novice Ridden Open Gelding and Champion Novice Ridden Gelding.
After doing so well at his first two shows, Mitch and Brooke opted to give him a quick spell prior to Canberra Royal Show, held in late February.
Hollis' Canberra campaign saw him titled Champion Led Standardbred Gelding, Supreme Led Standardbred, 1st Ridden Standardbred Gelding under 8YO and OTT Ridden Standardbred Under 8YO.
The Fox Equestrian team set out a plan of three major shows for Hollis with high hopes, however, did not anticipate him taking home major awards from every show.
"We can't fault Hollis as a competition horse," said Fox Equestrian principal Mitch Fox. "Each show there's been stronger competition, bigger atmospheres and he has stepped up and delivered every time, proving to be one of the easiest, most sensible and trainable horses on our show team.
"He is a true testament to the standardbred breed with a great work ethic, trainability and exceptional overall temperament."
Hollis is fed Hygain feeds and work consists of riding, walker and swimming.
Unfortunately, Hollis wasn't eligible for Sydney Royal this year, however, the Fox Equestrian team is deciding on some other big ticket events.
You can follow Kasbah Kid's successes via the HRV HERO Facebook page, with training updates posted periodically on the Fox Equestrian Facebook page.
LEARN MORE ABOUT MITCH FOX AND KASBAH KID VIA THE HRV HERO SHOW: