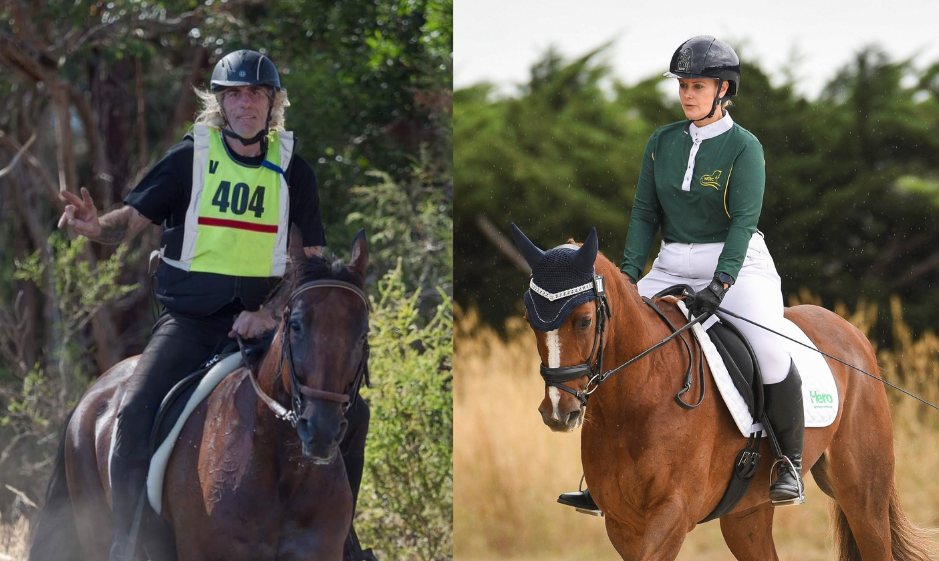 It was another week of standardbred success, with retired harness racehorses showcasing their versatility and talents across a diverse range of equestrian sport.

At the tail-end of the show season was the Great Northern Show, held in Rochester, with Casey Leijen and her talented new partner Catch A Moment, known to his friends as Wally, coming home with a trove of awards.

It was over two years ago that Casey first laid eyes on Wally, during her first day working at Nathan Jack's harness racing stables.
"I've helped Nathan to rehome lots of horses whilst working for him, but have always held off on taking one for myself as I was waiting for Wally to retire", Casey explains.

"Wally's got a heart of gold and tries so hard to please me. A couple of weeks ago he led the fields out on Hunter Cup night, which was only his sixth ride under saddle.  He was a superstar!

"It was only his eighth ride under saddle at the show on the weekend and he won most of his classes and qualified for the Hero Alabar Series Final next year. He's just unreal."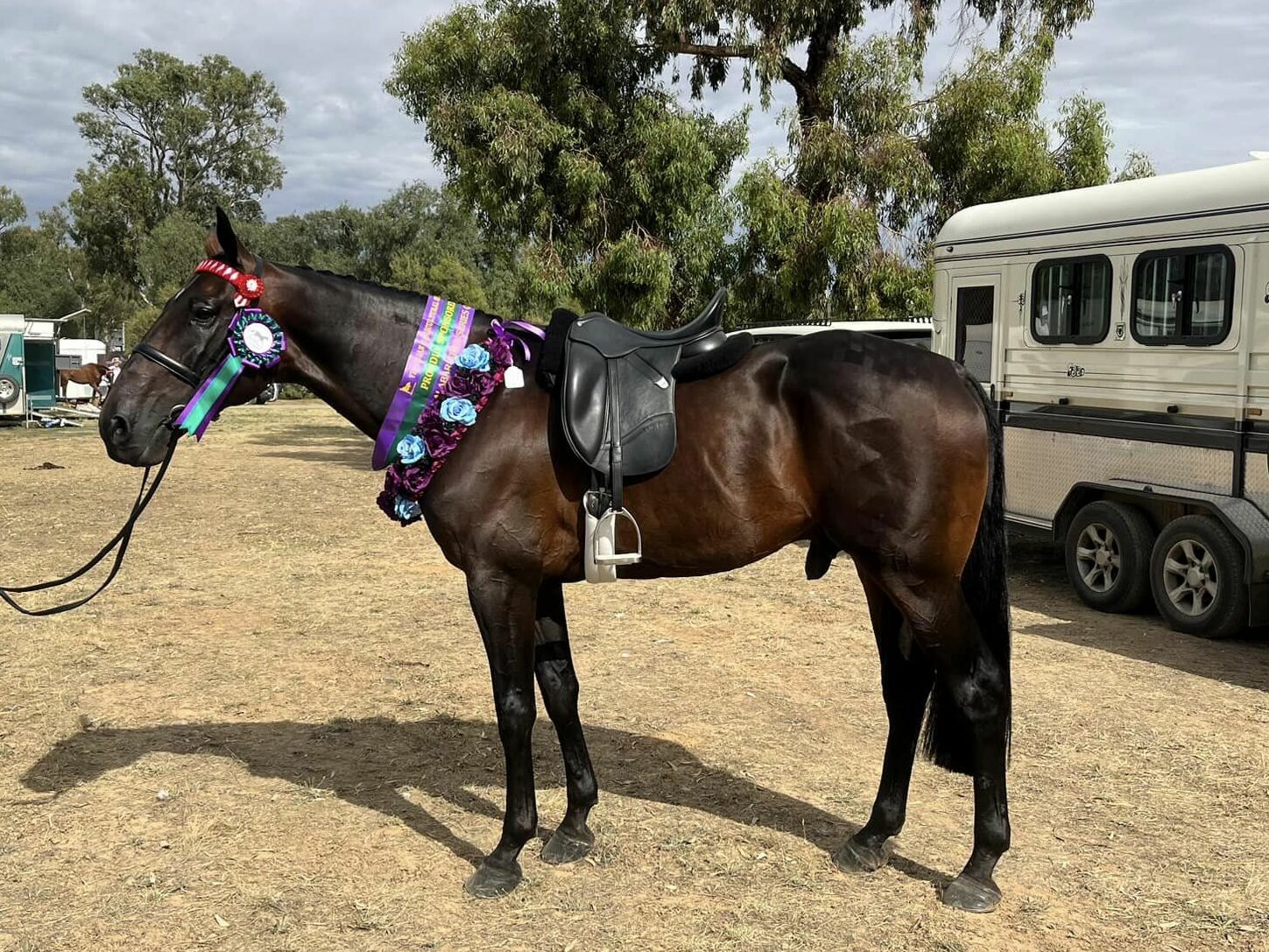 An admirer of Casey's efforts, and standardbreds more broadly, was Great Northern Show event organiser, Linda Leach.

"The Great Northern Rochester Show has been running standardbred classes for many years and we are lucky enough to be supported by Hero and local owners/studs", Linda explains.

"Standardbreds are a versatile breed, easy to train and people are starting to realise that they are worth their weight in gold. The Great Northern Show offers many classes for standardbreds to enter, from Fashions of the Field, to a variety of led and ridden classes, a harness ring and Open classes, where standardbreds line up alongside other breeds.
"It was great to see such a display of standardbreds presented at a high-quality level and owners enjoying the beautiful grounds and lovely weather that we were blessed with.
"Congratulations to Casey Leijen on Wally, who took out the Supreme Champion Led Standardbred, the High Point award plus the HRV Hero Best Performed Standardbred award. They certainly had a great day and deserved the win!"
Another deserving award recipient over the weekend, making the big interstate drive from Victoria to Canberra, was Hero Ambassador Kasbah Kid, affectionately known as Hollis, immaculately prepared by his family at Fox Equestrian.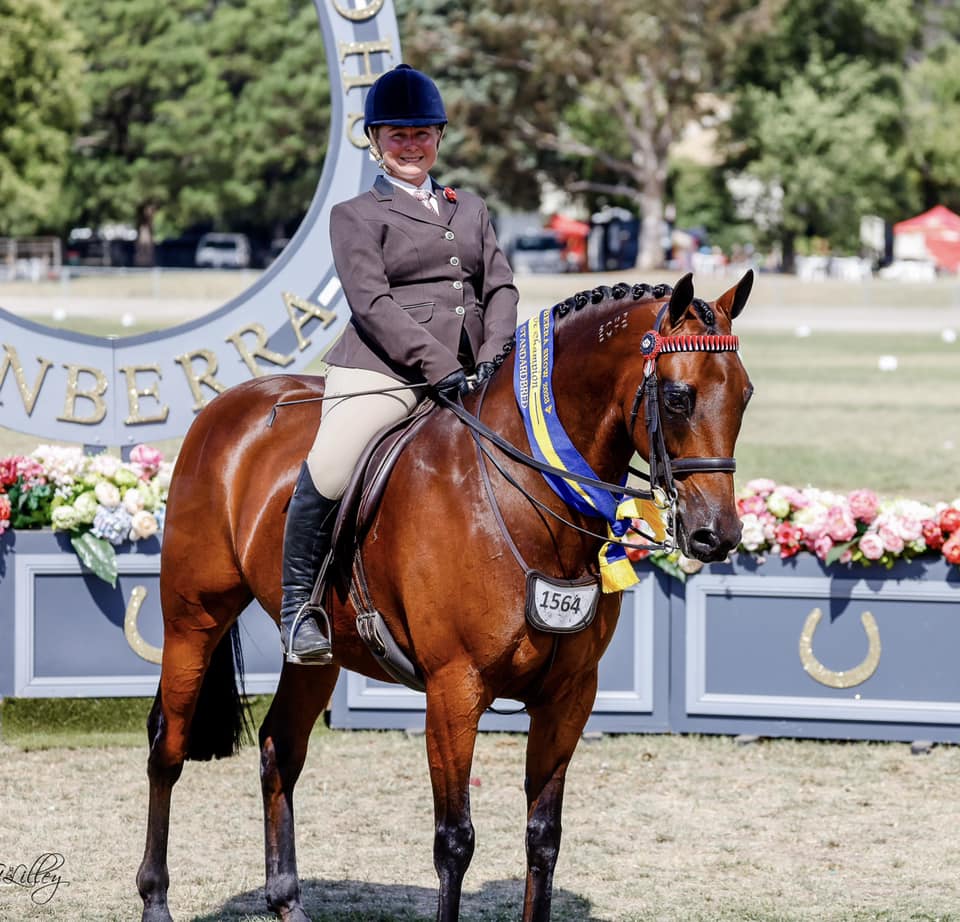 "The ACT Royal Canberra Show was a great host for standardbreds competing at the highest level. Exceptional sponsorship, prizes and subsidies saw great support, with competitors coming from far and wide to contest the prestigious titles on offer", says Brooke Sweeney of Fox Equestrian.

"The pressure was on for Kasbah Kid to back-up his Supreme Led win last year and we were ecstatic for him to bring home the title again.

"We were also rapt to go one better in the ridden section this year, with Hollis bringing home Reserve Champion Ridden to multi Victorian champion Savesomtimetodream".
Back in Victoria, several standies proudly represented the breed across the final rounds of the HRCAV Golden Spurs Dressage Series.

Best Performed Standardbred winner at Sunday's Westcoast ARC Dressage Jackpot, Michelle Loone, attended two days of back-to-back competition as part of the four-event Series.

"I work in agriculture, so missed the first event in the Series as it was harvest time", Michelle explains.
"The second event in the Series was held at Colac a couple of weeks ago, which was my first competition since 2006. I've only been partnered with Banjo Boy (an accomplished standardbred Michelle leases from Hero Retrainer Lisa North) since October, so I'm still figuring out his buttons.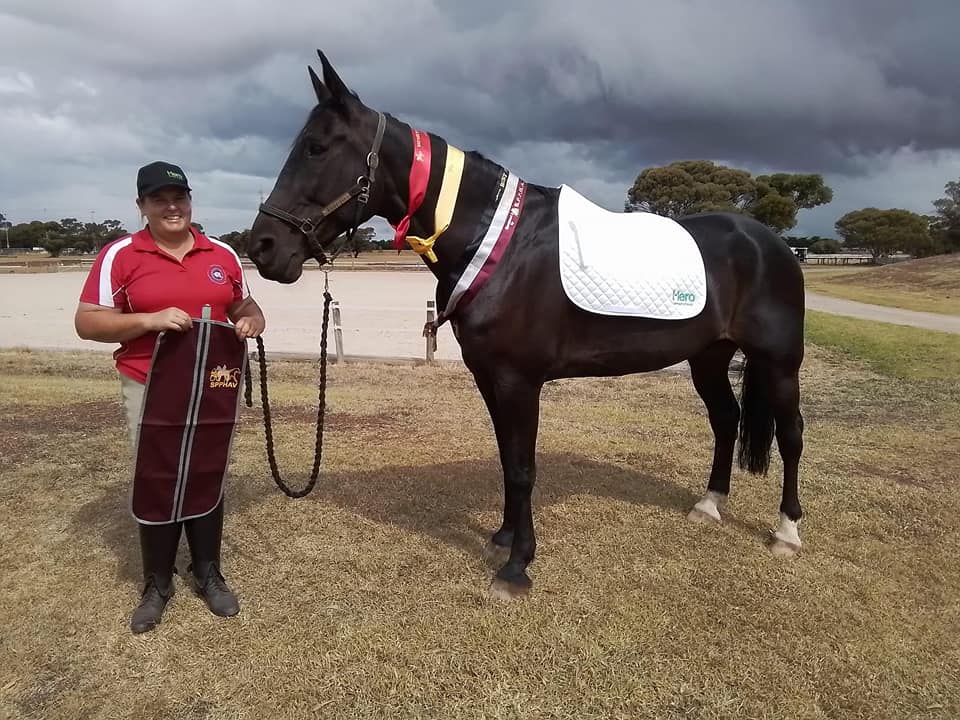 "Banjo is quite educated and we're learning to speak the same language.  After a rather poor performance at Saturday's Freshwater Creek ARC Dressage Jackpot, I reflected and went in with a different approach on the Sunday.  It must have worked, because we flipped the results to go from one end of the field to the other in the Level 4.

"Banjo was very excited to be there. He's a happy soul and a real character.  It's great to be back out at it again!"

Fellow Level 4 competitor, Madi Erdody, shared Michelle's positive perspective on the Series.

"My mare, Ray of Amber, and I have only moved up to Level 4 this year", Madi explains.
"The Westcoast Dressage Jackpot was our third Level 4 event and it was an amazing day! Amber tried so hard and has been getting better and better!

"Finishing third overall in a field of twenty-four was incredible and I'm so proud of my beautiful standy!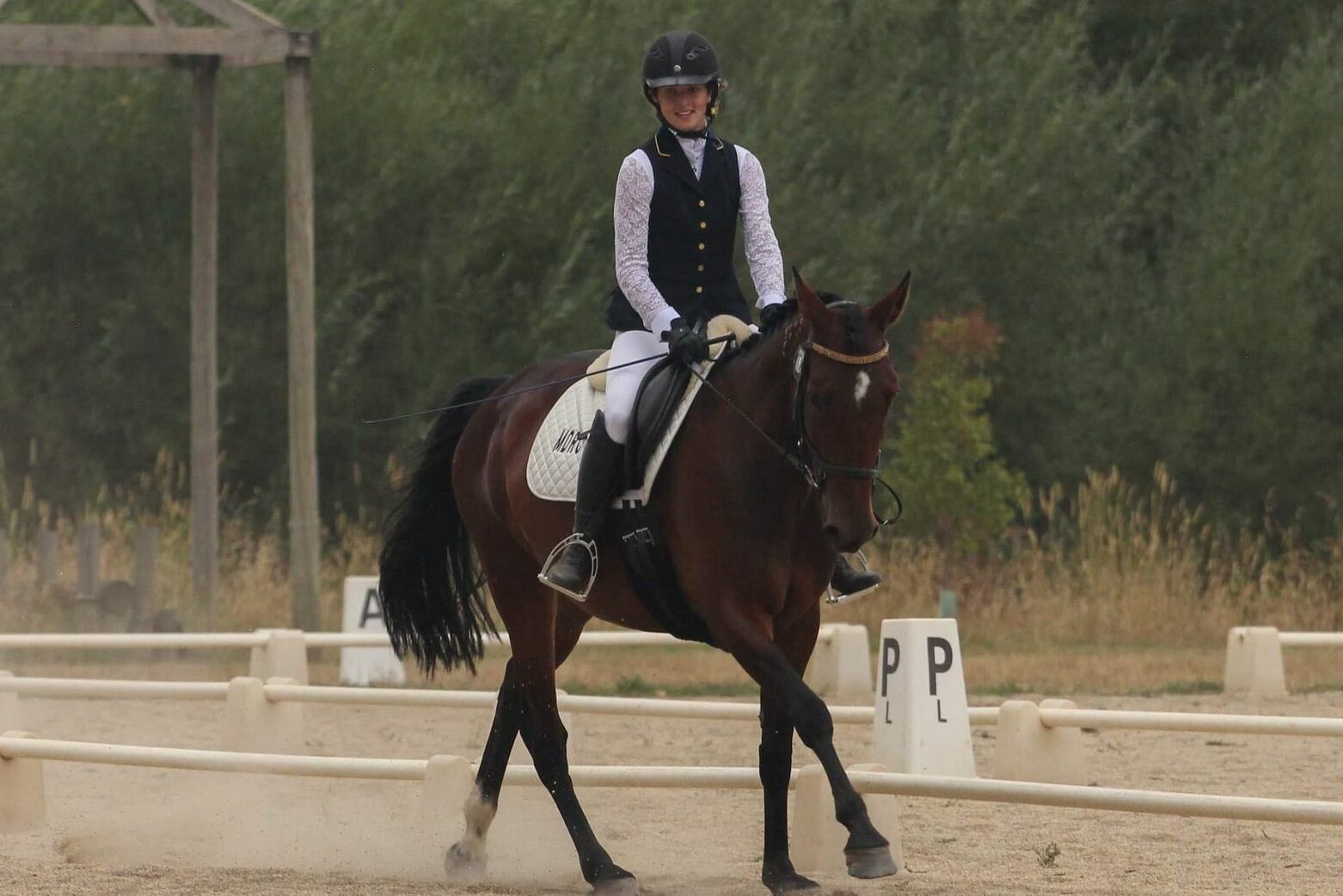 "We always get super nice comments on her trot work and her ability to canter with three beats; it's definitely a highlight!" Echoing Madi's joy was Hero Ambassador Emma Lindell, who had a busy weekend riding at both Saturday and Sunday's events.

Emma rode in Level 3 with her talented partner MF Hollywood, known at home as James, placing sixth overall in the Jackpot on the Sunday Westcoast ARC Dressage Jackpot, receiving a fourth place in her first test.

"The judges were very complimentary about my standardbred, with his beautiful trot and movement, and said they hoped to see more standardbreds out in the dressage arena", Emma says.
"As a Hero Ambassador, I was thrilled to be able to give a short speech about Hero's purpose and promotion of standardbred beyond the track, in dressage as well as other disciplines.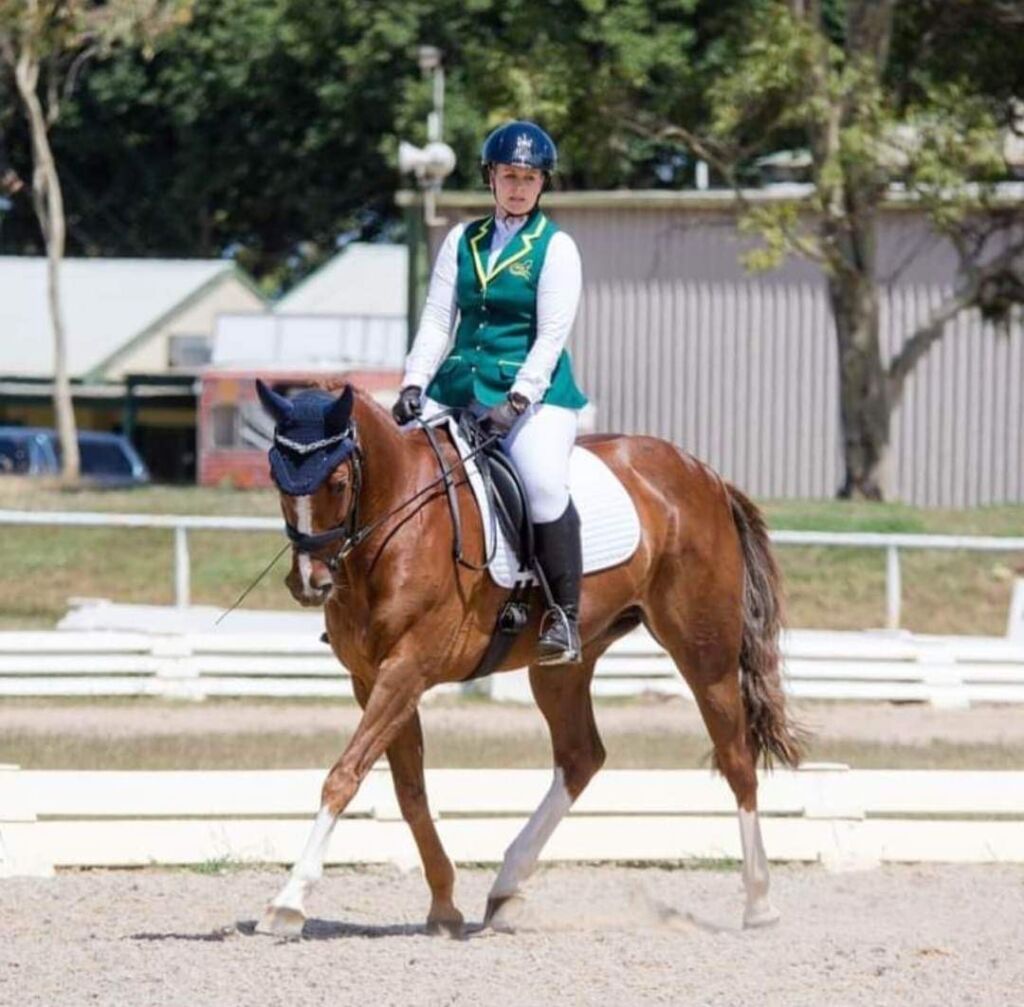 "It was wonderful to see other standardbreds competing and I was delighted to present Michelle Loone with the SPPHAV/Hero's Best Performed Standardbred Award on Sunday. Michelle rode two beautiful tests and fully deserved this award".
Emma and James' efforts on Sunday came off the back of immense success the day prior, with the pair winning one of their Level 3 tests at the Freshwater Creek Dressage Jackpot.
"There were seventeen in our class and we won one of the tests with a score of 77.1%. I just couldn't believe it; I was actually lost for words", Emma exclaims.
Westcoast ARC's President, Sarah Wood, was excited for their club to support standardbred riders at their annual dressage jackpot, which is part of the Golden Spurs Dressage Series. An impressive one hundred and twenty-five riders competed across all levels.
Rounding up this week's standardbred competition wrap, is a spotlight cast back on Mark Carson and his standardbred Mr Brown's efforts at the Feb 18th Snake Valley Dash, run by the Victorian Endurance Riders Association (VERA).
Mark and 'Brownie', as he is affectionately known, put in a formidable effort in the 80km endurance event, completing the ride in 7.21 hours to come in third place.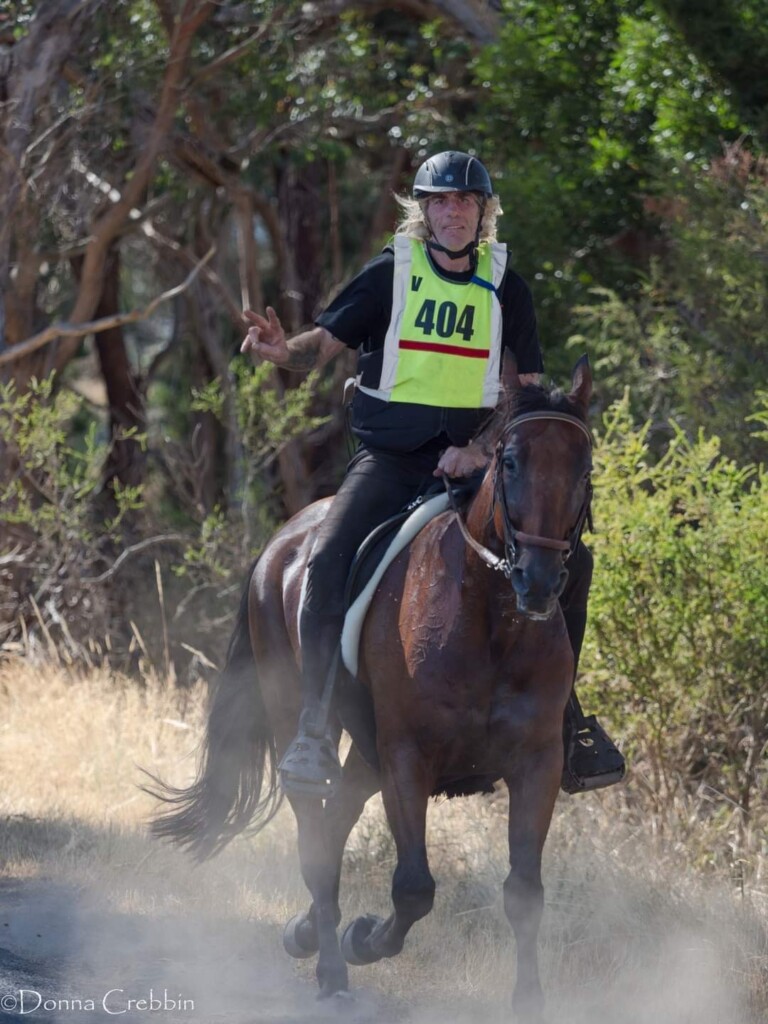 "Brownie just went wonderfully", says Mark of his mate.
"We've done about half a dozen rides in the 80km and in a couple of them he's picked up the Best Conditioned horse at the end of the ride, which means he's had a good heart rate and come through all of health checks well.  He really goes for it and loves being out there!

"We train at least five days a week, doing about 15-20km per ride.  I'm really proud of Brown; he's done such a good job and what he's doing out there is just a great example of another aspect of what standardbreds can do".

We look forward to bringing you more coverage of standy successes, in next week's Event Wrap.

If you or someone you know is organising an event and would like to learn more about standardbred prize and award sponsorship opportunities provided by Hero, please visit the Sponsorship website page for more information.