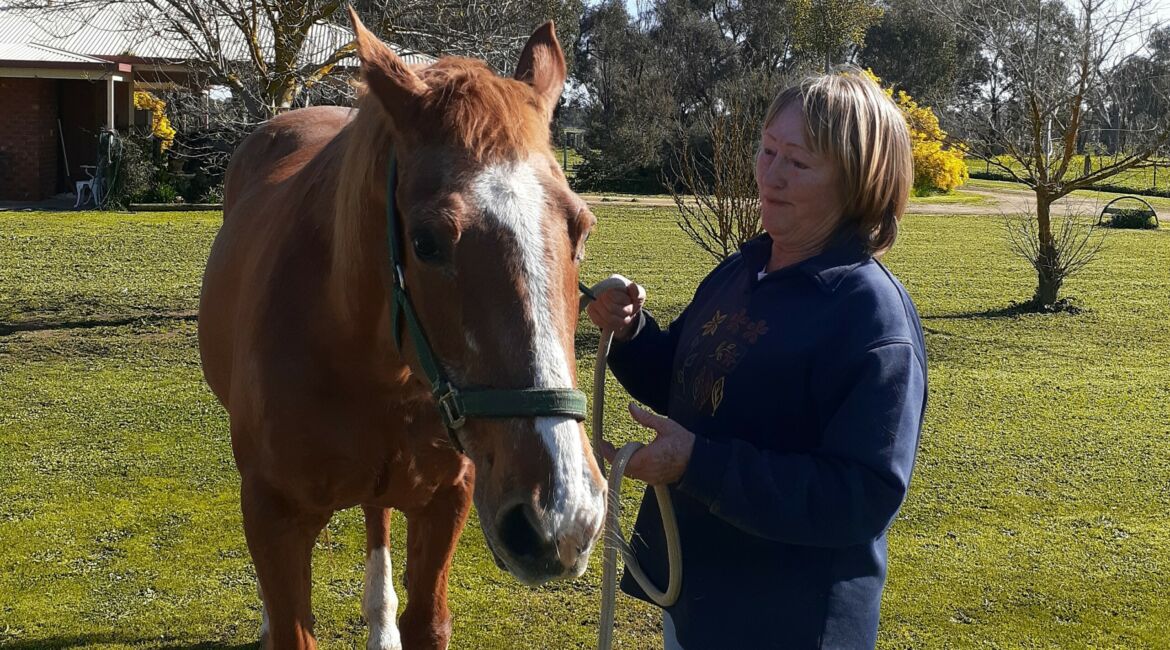 As the clock strikes four in the afternoon, the old chestnut gelding comes to life; dancing around the fence line for a glimpse of his human and his bucket of mushy feed.
At thirty-two years old he may not have many teeth left, but he hasn't lost his spirit and quirky personality.
"He's a real character, old Blue" says Noela York, the gelding's owner and friend since birth.
"I remember when Blue began to throw himself on the ground in the paddock, when he was just a young foal. I was a bit concerned at first, but soon realised that he was outsmarting botflies. One would come along and he would drop and play dead. You'd see him peek his head up to check if the coast was clear and if it was still buzzing around, he'd lie still again. He's always been a really funny, clever horse".
Life on the Wangaratta farm is all Blue has known in over three decades, having been bred by from a mare who came through the York family.
"My father-in-law, John York, was a big-time harness enthusiast, always knocking about the local tracks. Blue was the first horse he'd ever bred, from his mare Gemma Princess who I also trained and drove. Unfortunately, John passed away before Blue made it to the races, so everything we've done together has been a bit of his legacy", explains Noela.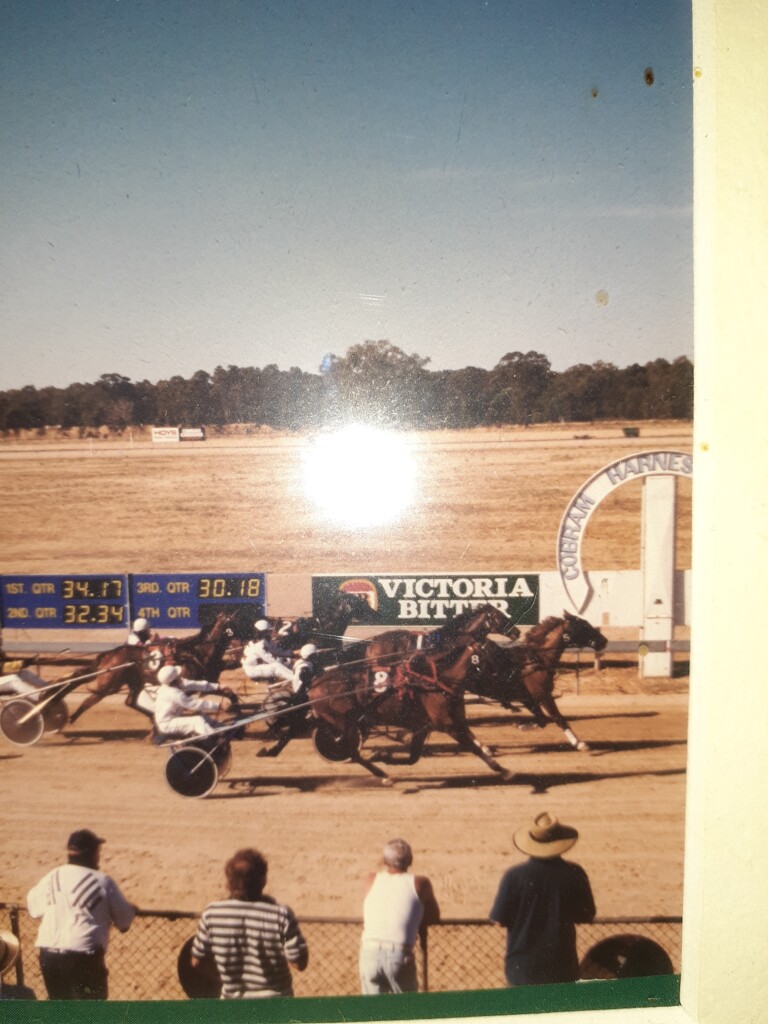 "Blue started racing when he was two years old, under the racing name 'Laird of Glengarry'. He was very keen and used to pull like a train, without much thought behind what he was doing. He was very quick to get going and he'd burst out and go really hard at first, before inevitably running out of puff!"
After a suspensory injury sidelined the young horse for over a year, Blue came back into racing as a four-year old. Noela recalls one night when Blue's bravado, and the wind, was knocked clean out of him, during a fall at a Shepparton night meet.

"Blue and I were in the back row and the horse right in front of us fell. We went straight over the top of them, along with five other horses who were caught up. Fortunately, everyone was ok, but really gave Blue a big shock", Noela recalls.

"From that point onwards, once I'd saved up to replace my cart – which had been bent like a pretzel in the fall – Blue was a little more careful and didn't go belting out at the start the way he had previously

"The caution from the fall helped him to leave enough in the tank to be able to finish well and have a few wins. He also saved me from a few close-calls, as he was always watching the horses in front of him and very quick to dodge if they looked unsteady".
It was quite poetic, that Noela's first driving win was with Blue, after her first ever race drive was behind his mother.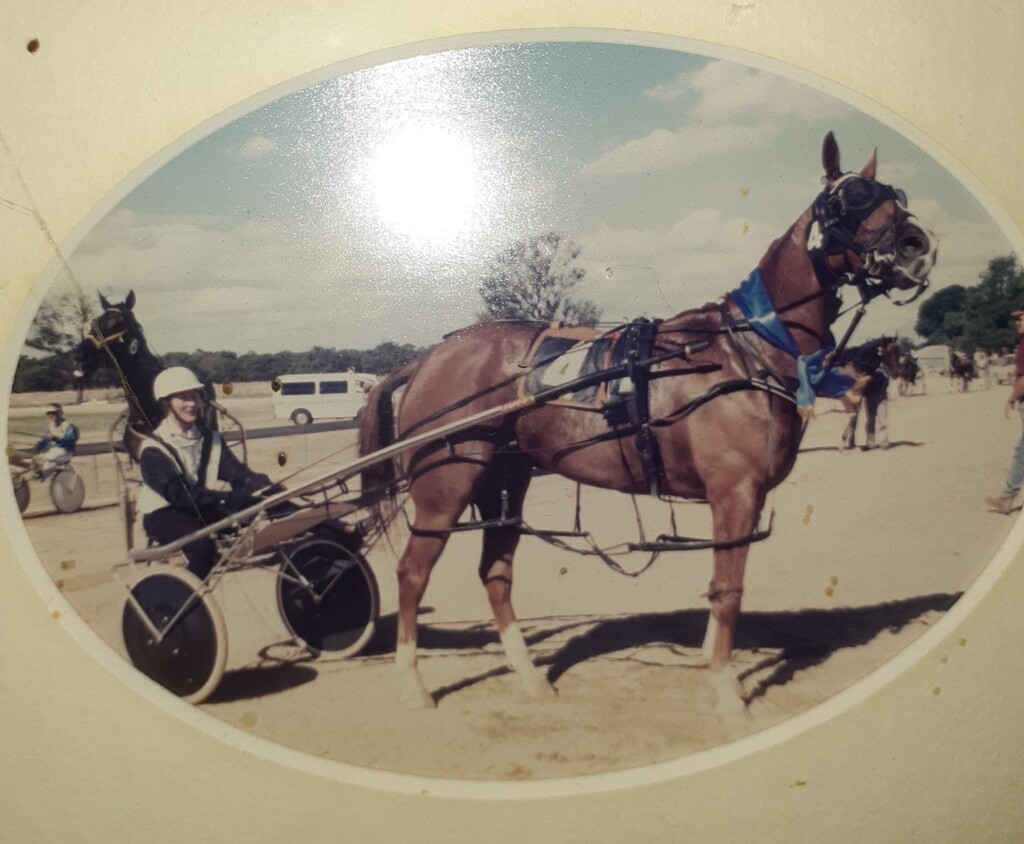 "I was so excited when Blue and I won that I forgot to go up to the Racing Office to collect my cheque, which is what we used to do back in those days. A few weeks later it arrived in the mail from the Harness Board; I had been so rapt to win that I hadn't even noticed!", says Noela with a laugh.
Noela's history in harness racing long predates Blue, and even his mother, when she took on her first job after school with stalwart Leo Newbound.
"Leo took me on when I was seventeen, strapping horses at his Wangaratta stables. He only had his top horses in training there, so I learned to drive behind the horses he'd take to the big meets. It was a real thrill to get to sit behind these great horses whist I was learning and then go home and see them racing on the television", Noela reminisces.
"After eight or so months, I moved over to Forest Lodge Stud out in Chiltern, which Leo ran in partnership with his brother Kevin. It was a really great eye-opener to be at such a prominent stud, which bred some of the great pacers and trotters of that era".
In the years to follow, Noela got married and started to breed and tinker with a few horses of her own. In 1980, as a mother to two young children, she obtained her trainer's licence.
"It was such a different time back then. There weren't many lady drivers and some country clubs didn't even have female change rooms!", Noela recalls.
"We would have to send our nominations in via post, with a $1 stamp attached – much more than the usual postage cost back then – a whole week or two before a meet, just to make sure it arrived in time.
"Being so close to the border, Albury was one of the closest tracks to us. Back in those days you had to pay a clearance fee each time you crossed the New South Wales-Victorian border. It took a fair bit of coordination and extra cost to line up a couple of meets in a row before we came back over the border, to make the fees worthwhile".
The unwavering commitment to her sport transferred to Noela's longstanding position as the Vice President of the Wangaratta Harness Racing Club, which is run by a band of hardworking volunteers.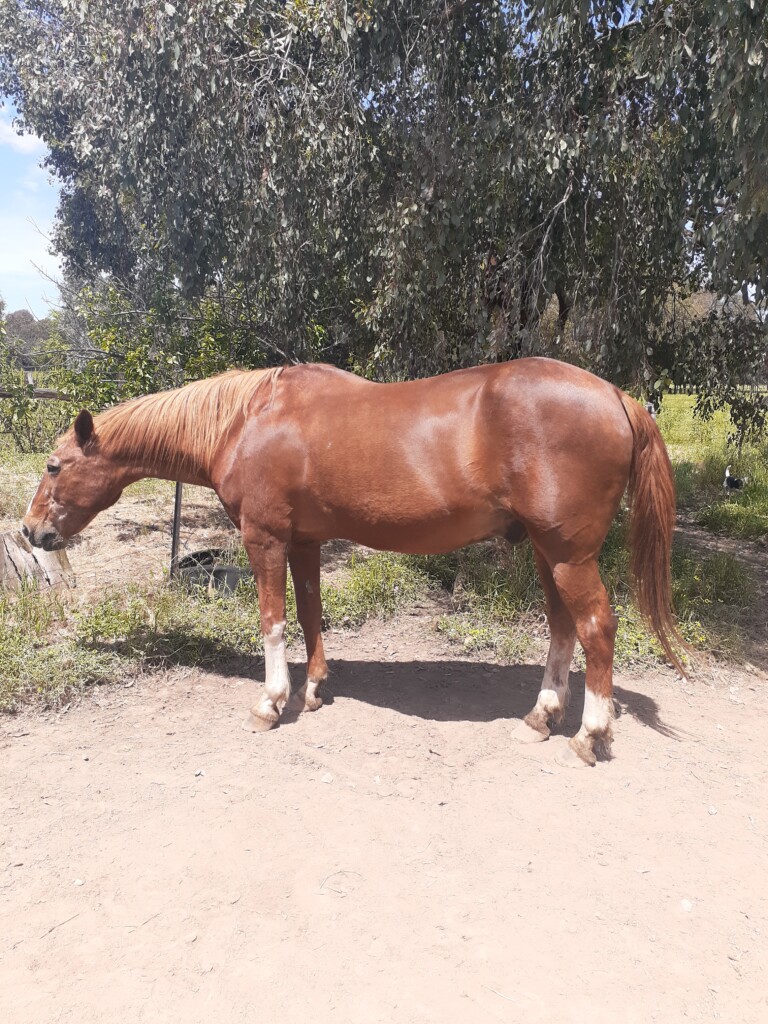 "Before Covid, the Club would run two meets per year. It was a massive effort, from the administrative side, right through to members rolling up their sleeves to mow lawns, do the gardens, bring the track up to scratch and get everything prepared", says Noela proudly.
It's with the same pride and dedication that Noela has tended to her mate Blue across their long partnership.

Theirs is a friendship forged over many years of showing up each day for each other and the closeness of couple of mates who have shared a lot together.

"Everyone loves old Blue. He's been the oldest horse I've ever had the pleasure of owning.

"Blue's been with me since his first breath and he'll be with me until his last. He's very special to me".