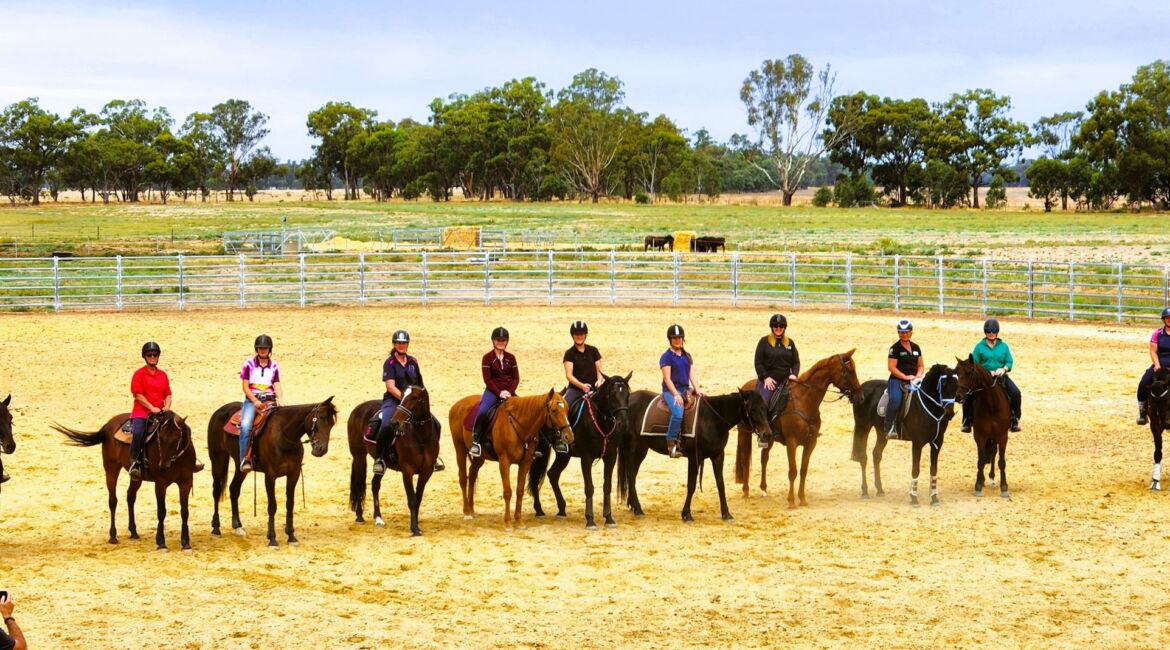 A far cry from the harness racetrack, over the weekend eleven standardbreds turned their hooves to herding buffalo around the Buff Park farm in Barmah.

The exclusive standardbred clinic, organised by HRV Hero in partnership with Buff Park, served as an introduction to campdrafting for those new to the sport.

"It was such a great time and the horses really stepped up and seemed to really enjoy it, which was great to see", says Wayne Booby of Buff Park

"The quality of the standardbreds who turned up and the way the riders and horses conducted themselves around the buffalo was incredible.

"For the short amount of time some of these riders have been paired with their standardbreds, what they achieved across the clinic was huge.  It was really impressive and I hope that they left having learnt something new and had a great time".

One of the riders who expressed having taken away a wealth of new skills from the clinic was campdrafting first-timer Annette Gent, who took her standardbred Nicholas along for a fun outing.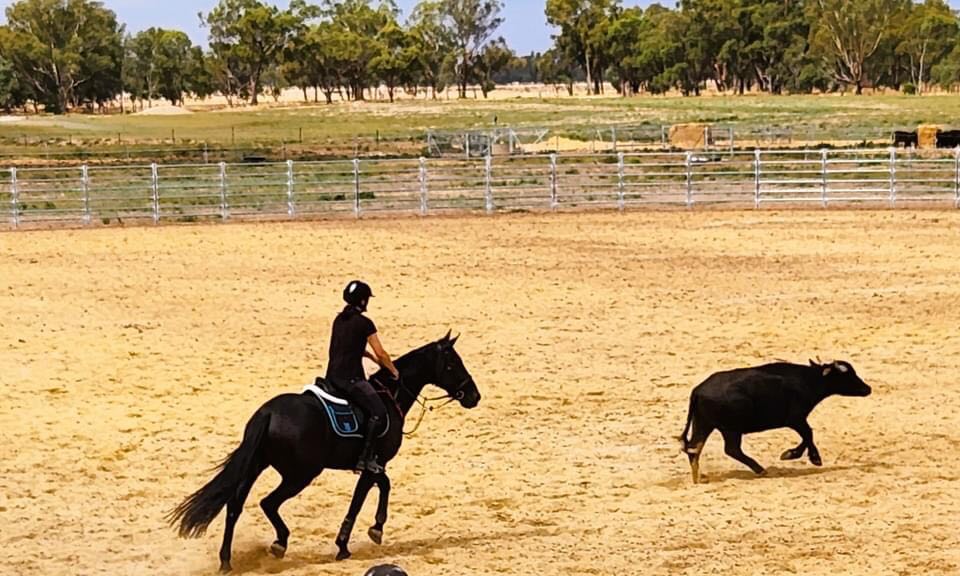 "This was one of the best experiences I've had with my standardbred", says Annette.

"Ellie and Wayne did such a great job building confidence with horse and rider.
"Being shown activities to help bend these big standardbreds was particularly useful and something I can practice and improve on at home.

"I couldn't have been happier with Nicholas and I'm looking forward to attending another clinic at Buff Park".

The clinic not only served as the perfect introduction to riders who were new to campdrafting, but also for those with experience looking for a safe introductory event for their standardbred.

This was the case for Rachel Duryea, who took her unraced unraced gelding, now known as My Secret Keeper, along to the clinic for his third ride under saddle.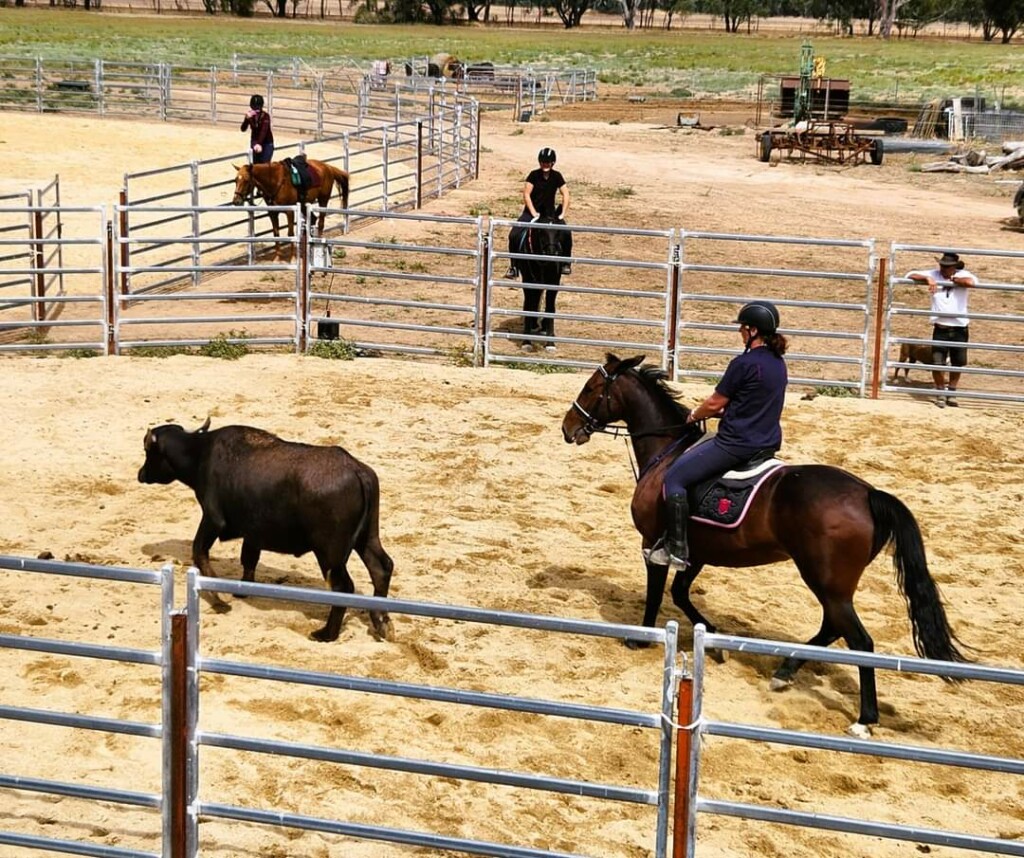 "We were split into two groups, with one group working around drums to learn some key skills like flexion, moving off the leg and body skills and the other group worked with the mechanical cow.

"The standies were so obliging and they did really well with everything thrown at them; they all just tried their hearts out.

"My standy went from not having seen cattle or buffalo, or even a moving flag, to actually being able to maneuver the buffalo around in a pattern.  This was all in a matter of just six hours.

"It was interesting to watch how not only the riders' confidence grew across the clinic, but also to see how keen the horses were to try new things without even thinking about it.

"They started to pick-up their canter, because both horse and rider were more focused on having fun and what was happening in front of them".

Proof of this keen observation, was the success experienced by Janelle Bunfield and her standardbred Spencer.

Janelle took her Spencer to the clinic, despite him having only had around eight or nine rides under saddle in total, all being at home.

"I went into the day not knowing what to expect", Janelle explains.

"I think Spencer just really enjoyed being out doing something different and with a group of horses not in the gig. It was great to see him relax into the day and be happy to stand around and socialise.

"The facilitators and other attendees made us all feel very comfortable and that made for a fun day. Every horse that participated handled themselves brilliantly and it just shows how versatile and willing standardbreds are.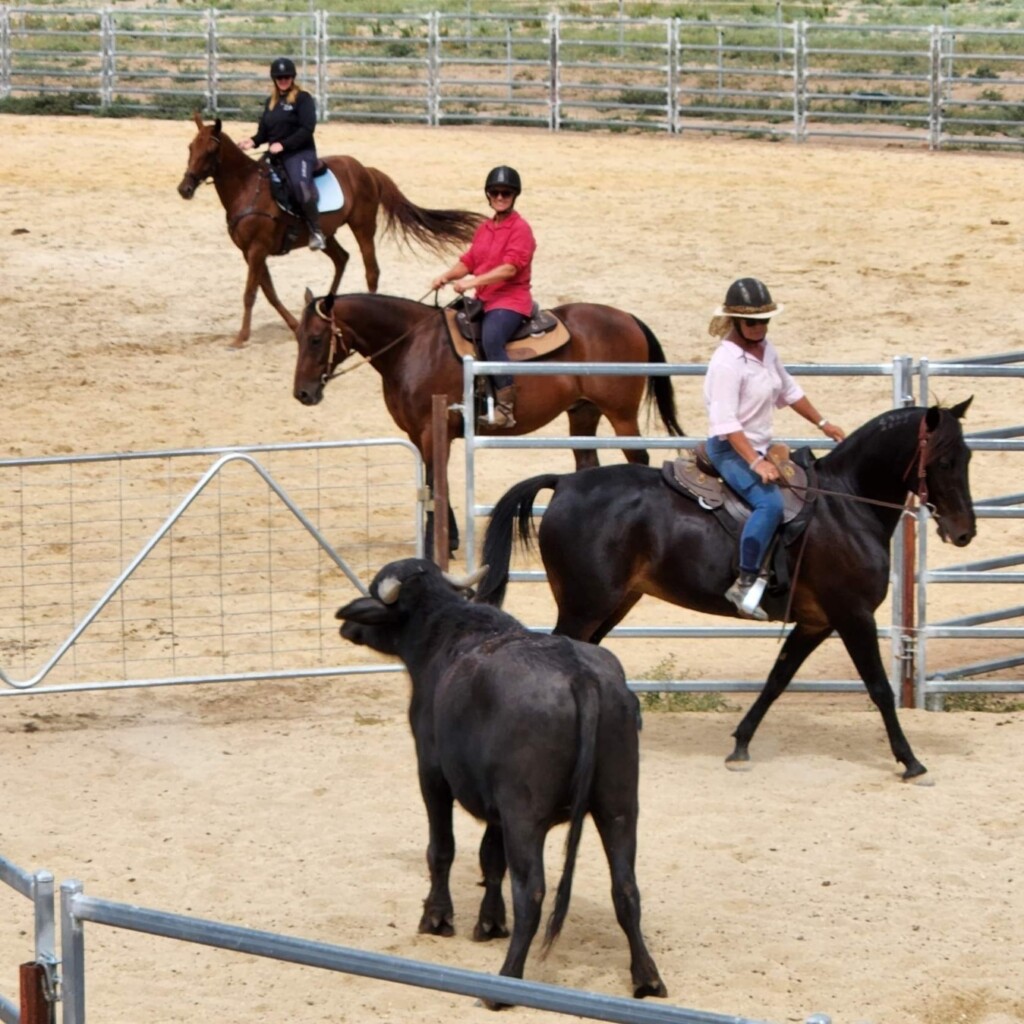 "Spencer ended the day with a canter, which he hadn't done outside of our round yard before. I am extremely proud of him and look forward to what the future holds for him in his life outside of racing". Fellow clinic attendee Kelly Mackay's clever standardbred mare Princess discovered a new passion out in the campdrafting arena.

"I couldn't believe how much Princess enjoyed it", Kelly explains.

"She is apparently very "cowy" which I would never have known, had we not attended. She did not take her eyes off the buffalo all day and locked onto her beast every time.

"I loved all aspects of the clinic, from beginning with teaching our horses to move their feet, all the way through to running the pattern.

"The fact that the clinic was only open to standardbreds was what encouraged me to attend, as I knew standy lovers would be supportive and understanding.
"Overall, the Buff Park Clinic was fantastic and I would love to attend another one!" Another talented standardbred mare to unlock a new 'cowy mode' at the clinic was Connie Turner's retired pacer Clever Thinker, known at home as Girlie, who was engrossed in all of the action.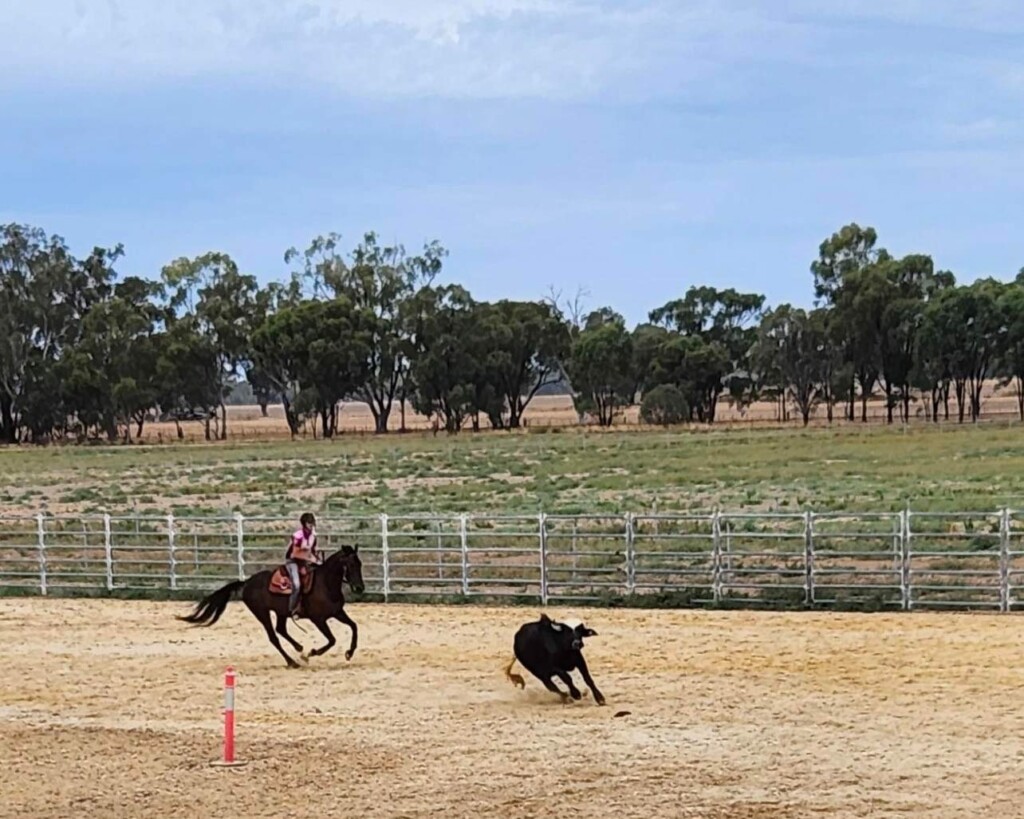 "Girlie really seemed to love watching the buffalo shoot out of the holding pen running into the campdraft arena. She had her eyes and ears glued to them!" Connie says.

"I particularly enjoyed learning about the history of how campdrafting came about and how to ride the campdraft pattern. "It was a bloody great experience and proof that there is no limit to what a standardbred can achieve if given the chance to have a go!"

Learning to ride patterns and work a mechanical cow were activities also enjoyed by Jess Baraclough, who cited campdrafting as 'a whole lot of fun, but a lot harder than it looks'.

"My favourite activity was chasing the buffalo and pushing Jimmy faster to catch it", Jess explains.

"Jimmy loved the whole day, from the activities which included body control with my legs to working the buffalo around the pattern.

"We'll be back to do it again!"

Sharing an enthusiasm to give campdrafting another go in the future was Casey Leijen, who says the standardbred-specific clinic was a 'fantastic idea'.

"I thoroughly enjoyed working on the mechanical cow, but the best thing was been able to chase the big buffalo outside. It was so much fun and my standardbred Wally loved it!" Casey recalls.

"Wally and I had some great takeaways from the clinic, learning turns to sit back and use his hindquarters to turn, instead of turning on the forehand.

"It was so nice to see so many standardbreds out there enjoying themselves."

Adding to the achievements of their buffalo-moving friends, several standardbreds took a dance in the sand over the weekend at various HRCAV dressage events across the state.
With multiple standardbred owners on the committee at the Trentham ARC, the inclusion of Walk/Trot test at their Not-So-Midweek Dressage Series, held across Fridays in February, March and April, was designed to 'give nervous riders or green horses a chance to experience competition in a safe, low-pressure environment'.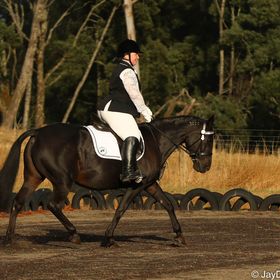 Proud standardbred owner Nicky Fontana was one of the riders to take advantage of the Walk/Trot classes, having a fantastic day and bringing home a third placing.

"It was wonderful to finally get out, after the event was postponed due to the heat in February. 

"I could not stop smiling the whole day!"

Standardbred owners are encouraged to register for the final event in the Not-So-Midweek Series, scheduled to be held on Friday April 21st, as the Walk/Trot class will be featured on the program, along with the Best Performed Standardbred award, sponsored by Hero and SPPHAV. Another HRCAV competitor sharing excitement from the dressage arena over the weekend was Hero Ambassador Emma Lindell, who travelled three hours to camp overnight for the Hamilton ARC and Warrnambool ARC Dressage Jackpots with her talented standardbred MF Hollywood, affectionately known as James.

"My husband got a crash course in dressage calling the Monday prior and got only two opportunities to practise calling them. Saturday was very windy and callers were a struggle to hear", Emma explains.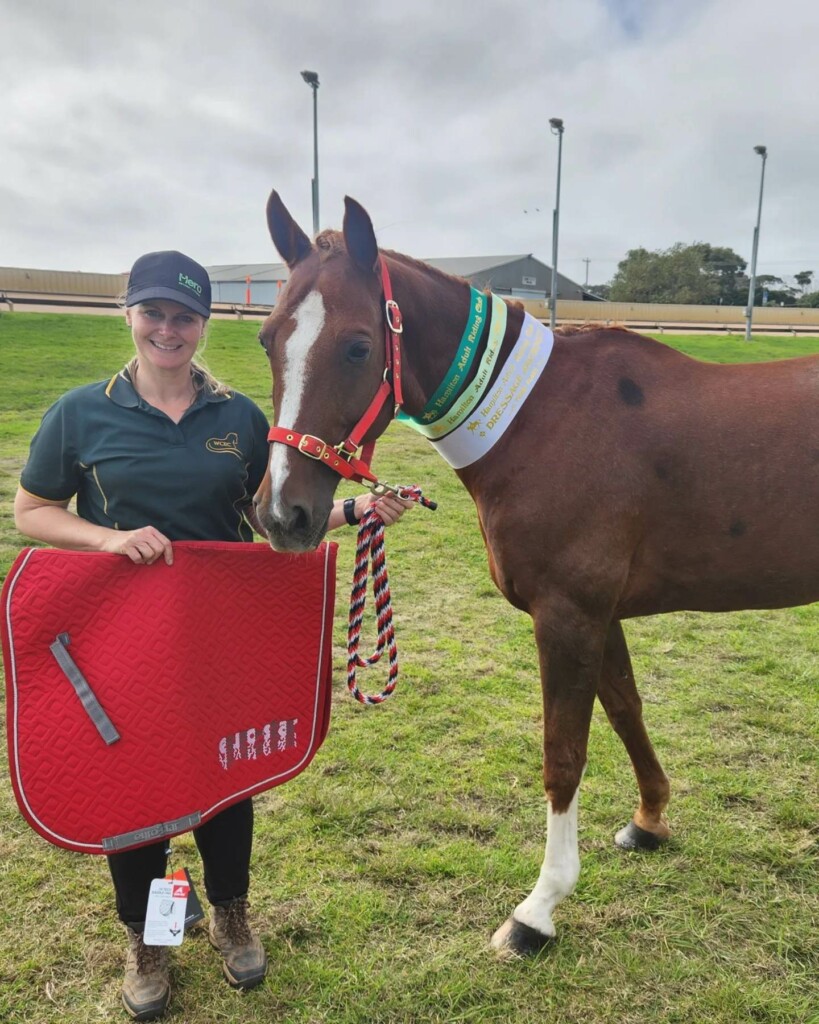 "James and I placed fourth and fifth for an overall third in the Jackpot for Level 3 at the Hamilton ARC event on the Saturday, also winning the Best Presented Horse & Rider for the day and the Best Performed Standardbred Award.

"On Sunday, we placed third and first (70.7%) tests and placed third in the Jackpot. "These awards gave us the points needed to point-up into Level 2 HRCAV Dressage".

Emma and James' achievements are made all the more impressive given that the pair started in Level 5 after the Covid lockdowns lifted in 2021 and only attended their first Level 3 competition at the end of September 2022.

"It has not been an easy road competing in large classes with some beautiful horses bred specifically for dressage, but we go out each time and hold our head high and work our legs off to get the placings", says Emma when asked about her journey with James.

"Many of the HRCAV judges are excited to see more standardbreds out competing and I encourage standardbred owners to join their local HRCAV club to enjoy the supportive community".