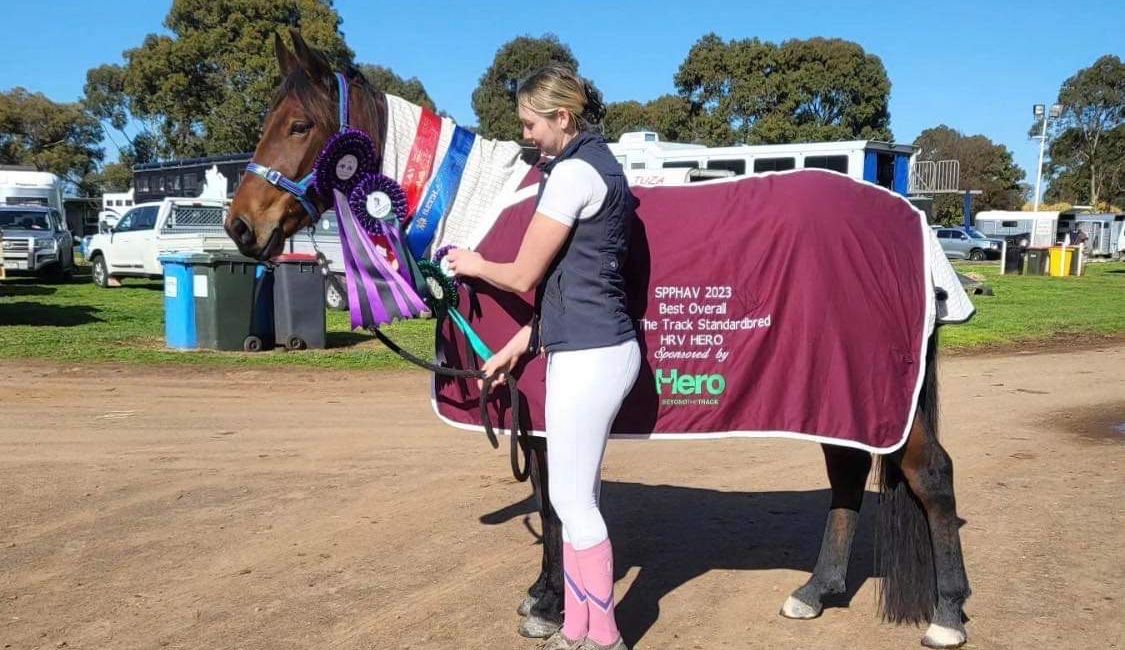 As the temperature plummeted due to an unseasonably chilly Autumn, the competition heated up in the standardbred dressage and jumping arenas, with events spread across two months attracting some of Victoria's most talented standardbred riders to vie for State Champion titles.

The first round of competition took place across a huge weekend (April 15th and 16th ) of multidisciplinary fun at the Shirley Heights Equestrian Centre, including Dressage, Combined Training and Show Jumping Championship events.

There was much gratitude expressed by competitors, who were glad to escape the soggy conditions in the indoor arena for the Novice, Intermediate and Open classes.

The Open Dressage section was closely contested, with dedicated combinations Katie West on her standardbred Future Bliss taking home the State Champion Open sash a whisker ahead of Fee Williams on Sevenknightsaweek, who claimed the Reserve.

"The weather was wet and cold, but having the opportunity to ride both EA Preliminary tests in the indoor arena was a bonus", says Fee.

"The judge was very supportive with her comments. I was really happy to get 71% for one of our tests.

"Having the opportunity to compete against other standardbreds at a dressage comp was a highlight, as usually Dolly and I are out competing in HRCAV against all different breeds.

"I would encourage everyone to give it a go next year as there are dressage tests available for inexperienced or experienced horses and riders".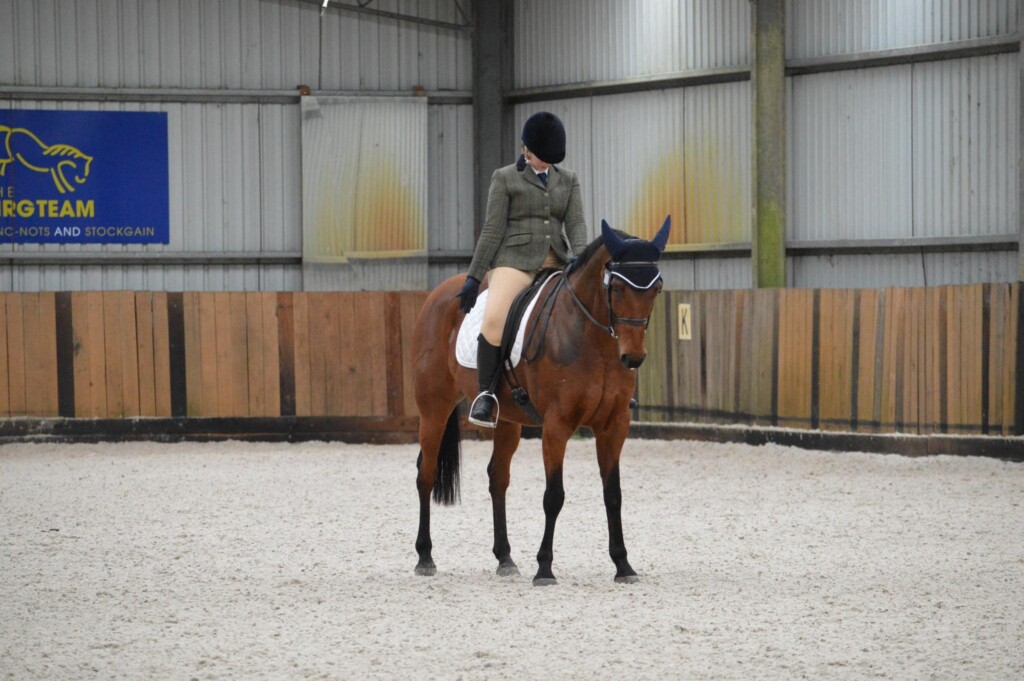 Hero Ambassadors Katie West and Future Bliss' success didn't end in the dressage ring. The pair also took to the show jumping course, finishing up as the Reserve Intermediate State Champion and going on to win the weekend's Combined Training award; which aggregates results from the dressage and show jumping events.

"We were so lucky to have the use of the indoor at Shirley Heights, which has an amazing surface to ride on and got us out of the weather", Katie explains.

"I was super proud of both of our tests, which resulted in us, surprisingly, being crowned Open State Dressage Champions for 2023. A few tears were shed on my part.

"I look forward to the SPPHAV State Show Jumping Championship every year, as the atmosphere is so supportive. It's a great event to gain more jumping experience without the pressure of your standard competition.

"I was lucky enough to receive the Judge's Choice award, as the judge believes Barry has a massive talent for it.

"I encourage more people to come have a go next year, as it's so much fun!"

Katie and Barry also received the Champagne Dressage Series award, which is combined across both the Round 1 and Round 2 events to determine the overall Open section Champion.

Another rider who celebrated immense success in both the dressage and jumping arenas, on two horses, was Sarah Marshall.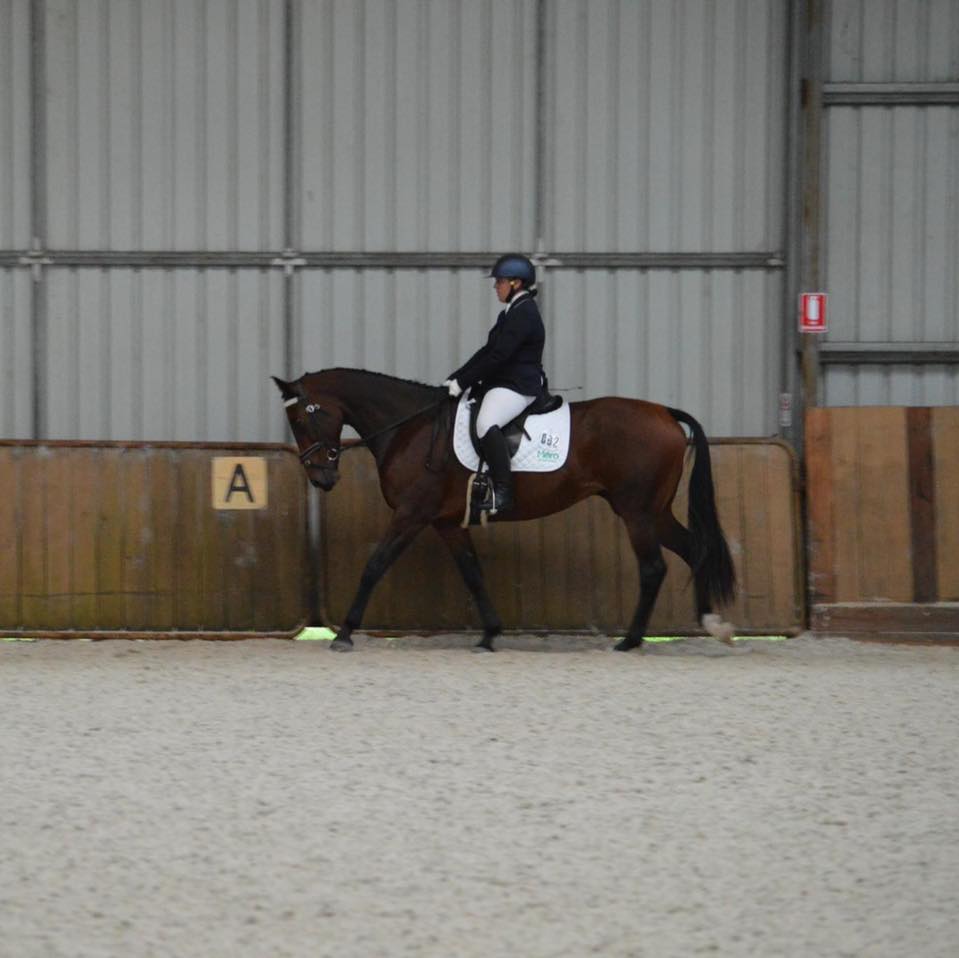 Like Katie, Sarah received a trifecta of broad sashes across the Dressage, Show Jumping and Combined Training events, with her talented standardbred Starscream winning the Novice Champion in all three sections and her mare TP Black Rose taking home the Reserve Champion for Novice Show Jumping and placing in the dressage.

"I could not have been happier with Jett (Starscream), after a great weekend", says Sarah.

"He was so happy and relaxed, placing him Novice Champion on both days."

Hero Retrainer Nicole Touzel was elated to win the Reserve Champion sash in the Round 1 Novice Dressage section, aboard her beautiful mare Fire In Heaven.

"The SPPHAV events are such a great opportunity to take your standy out and about with a very friendly and laidback atmosphere", says Nicole.

"I really enjoyed their competition and will definitely be back!"

Up-and-coming combination Jordan Gill and her young gelding Our Warrior continued their fantastic 2023 season, taking home the Novice Dressage Series Winners combining the results from the Round 1 and Round 2 Dressage events.

"Mickey placed fourth in Round 1 before taking out Reserve Champion for the second event and the Best Performed Off The Track award at both days. We came home with some beautiful rosettes, sashes and a trophy.

"Thank you to HRV Hero, Raising the Standards and SPPHAV for your sponsorship of the awards and running a fantastic day. I love this little horse he has such a bright future".

In the Show Jumping sections, the Intermediate Champion sash was awarded to long-serving SPPHAV President Shelley Murcutt, on her remarkable twenty-five-year-old gelding Licorice Twist (aka Gus).

"I am just rapt up with Gus. He is a grand old man, who can still beat the young kids", says Shelley.

"Gus was my standout – my heart horse, he saved me once when I was very sick and just continues to give".

Competing against Shelley was Kylee Paull and her talented gelding Whiskey Business (aka Minty), who once again proved he may just be Australia's most versatile standardbred.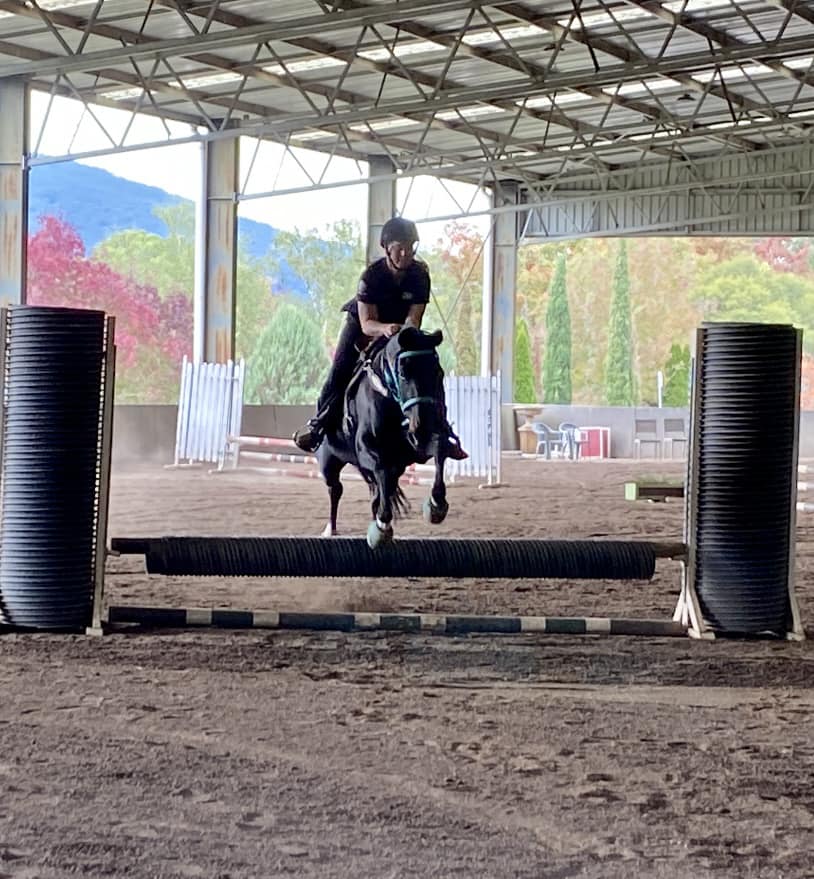 Kylee and Minty have chalked up an impressive history competing across a multitude of disciplines, including monte racing, the Royal Melbourne Show ring and with countless accolades to the highest levels in Sporting and national-level barrel racing.

The Hero Ambassadors were happy to switch gears and enjoy a couple of rounds of jumping.

"Minty and I competed in the SPPHAV State Show Jumping Championship and the highlight this year was that he actually went over the jumps this time", Kylee says.

"We made both jump offs, but unfortunately knocked a rail in both of them. It was a really great day!"

Round 2 of the Dressage Series was held just shy of a month later, at the Werribee Park National Equestrian Centre in May.

Seasoned standardbred competitor Sebastian Bellamy had a fantastic day, riding Fairfield Evening Star for Aimee Wilson to take out the Novice Champion award.  Sebastian also rode a beautiful test on Casey McCulloch's gelding Heza Cracker for a Reserve sash in the Open Championship.

"It's always such a friendly and encouraging environment when competing in the SPPHAV dressage events and a brilliant opportunity to ride with like-minded people", Sebastian explains.


"Fairfield Evening Star, owned by Aimee Wilson, definitely benefited from the chance to ride some low-stress tests under a super encouraging judge and we were pleasantly surprised that she ended up the Novice Champion for the day.

"I also always enjoy the opportunity to hop on Heza Cracker (last minute as it was) for Casey McCulloch. It was great to test out some more challenging tests in the Open section and we couldn't be prouder that he came away with the day's Reserve Champion".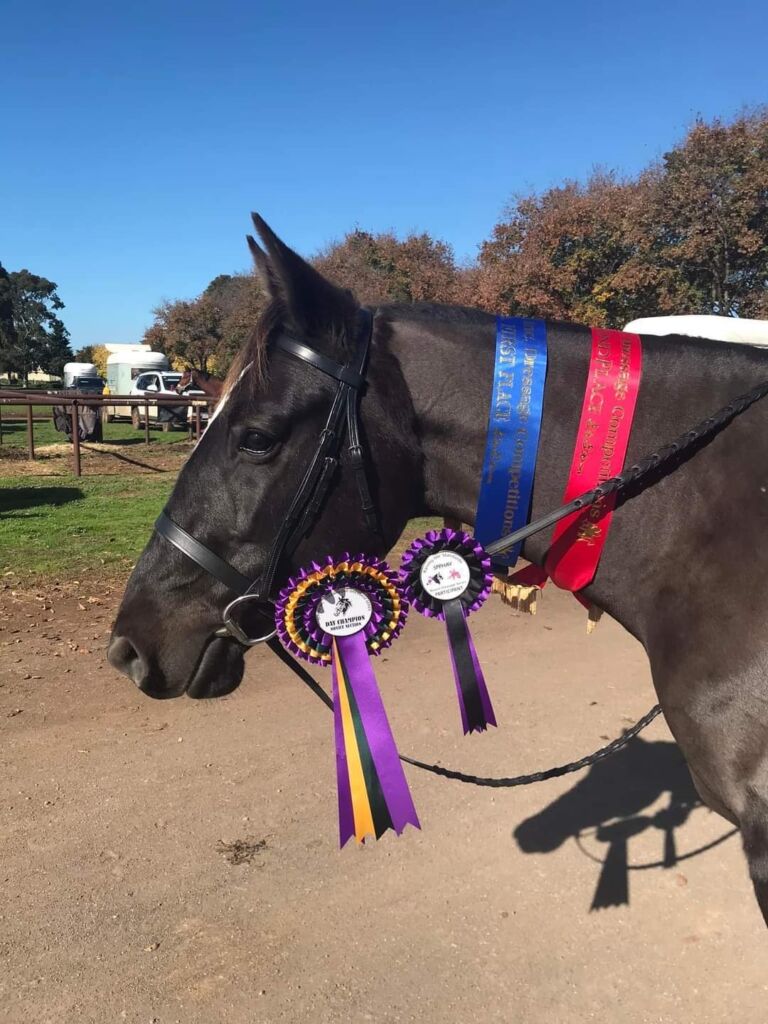 Owner Casey shared in Sebastian's celebrations, after a fantastic team effort.

"Heza Cracker started the day off a bit unsettled, but calmed throughout the day to produce two lovely dressage tests, winning his second test for the day and coming home with Reserve Champion", Casey says proudly.

"The judge gave great comments and even said how lovely he was and that she believes he'd be super for the higher levels with more strength, again proving that standies really can do more than just pull a cart!"

Also beaming from positive feedback was Madi Erdody, who was thrilled to win the Open Novice Champion having come into the event with a modest aim to improve on the previous year's success.

"Amber and I competed at Round 2 of the SPPHAV Dressage Series in the Open class and she blew me away how hard she tried!" Madi gushes.

"Our goal for the weekend was to beat our previous year's score from Novice class of 65% and she did such incredible work and we received 75% and 77% in our tests.

"Whilst the score doesn't always matter, it really reflected just how far we've come in a year from winning the Novice Series to Champion in Open. I just love this mare and her hardworking attitude. I'm excited to see where the next year takes us!"
Round 2 judge Deb Van Iersel shared much praise for competitors and event organisers, after having a 'ripper morning'.
"I had the honour and pleasure to judge for 2023 SPPHAV round 2 champagne and novice dressage series. Such pride taken by riders and owners beautifully presented" says deb.
"I was so impressed how the horses behaved at WPNEC; such calm and willing horses.
"Congratulations to all riders and thank you to the committee for a wonderful day".
SPPHAV President Shelley Murcutt was full of praise for the efforts of the many volunteers and participants who contributed to the Series' success.

"It was a great two months and we thank to all who participated and demonstrated the versatility of the standardbred – particularly over the April State Championship weekend.

"A huge thank you to our sponsors and HRV Hero for their continued support of our events".

Please see below for a list of the major winners across the Show Jumping and Dressage Championship Series: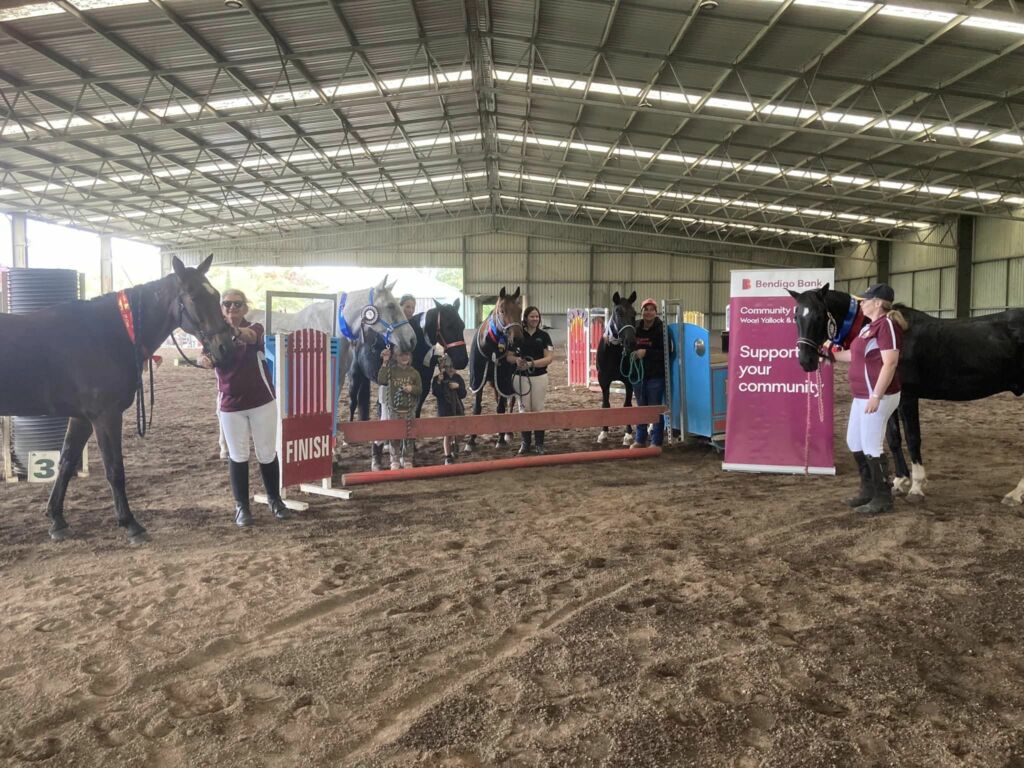 SPPHAV State Show Jumping Championships
State Champion Intermediate: Shelley Murcutt and Licorice Twist
Reserve: Katie West and Future Bliss

State Champion Novice: Sarah Marshall and Starscream
Reserve: Sarah Marshall and TP Black Rose


SPPHAV Dressage States Championship (Round 1)

State Champion Open: Katie West and Future Bliss
Reserve: Fee Williams and Sevenknightsaweek

State Champion Novice: Sarah Marshall and Starscream
Reserve: Nicole Touzel and Fire in Heaven

Hero Off The Track award: Jordan Gill and Our Warrior
Combined Training (scored across Dressage and Show Jumping)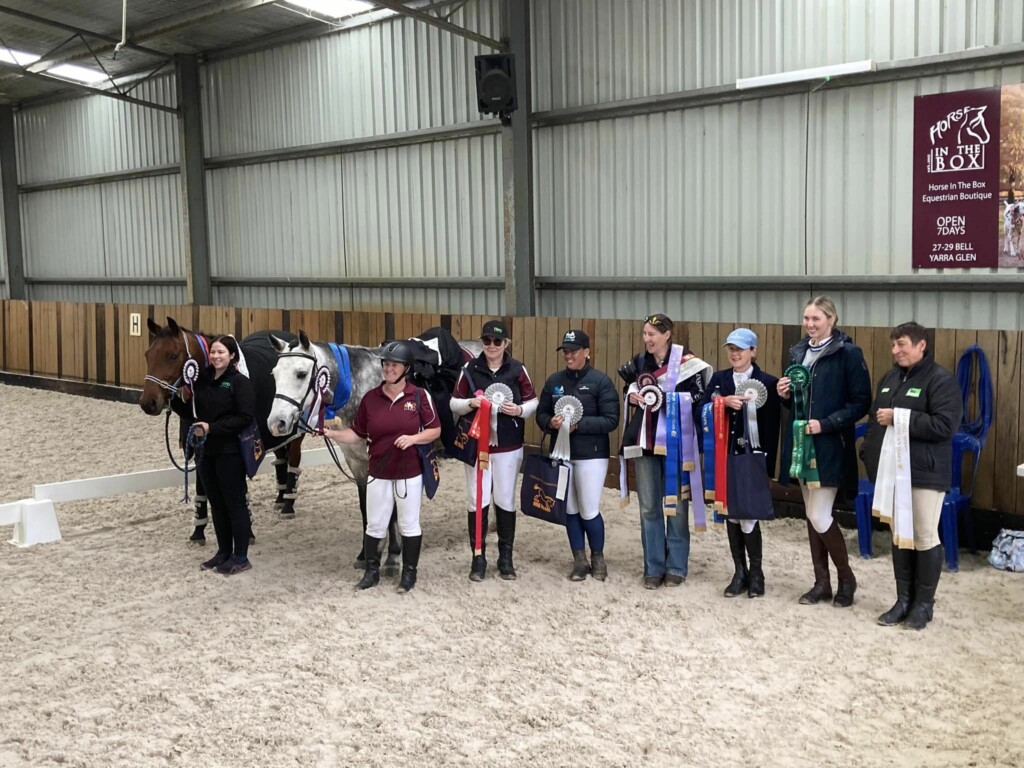 Open Champion: Katie West and Future Bliss
Novice Champion: Sarah Marshall and Starscream

Dressage Championship Round 2

Champion Open: Madi Erdody and Ray Of Amber
Reserve: Sebastian Bellamy and Heza Cracker for Casey McCulloch

Champion Novice: Sebastian Bellamy and Fairfield Evening Star for Aimee Wilson
Reserve: Jordan Gill and Our Warrior

Hero Off The Track award: Jordan Gill and Our Warrior
Champagne Series (scores across Rounds 1 and 2) SPPHAV Champagne Dressage Series Open Champion: Katie West and Future Bliss

SPPHAV/Raising the Standards Novice Dressage Series Champion: Jordan Gill and Our Warrior