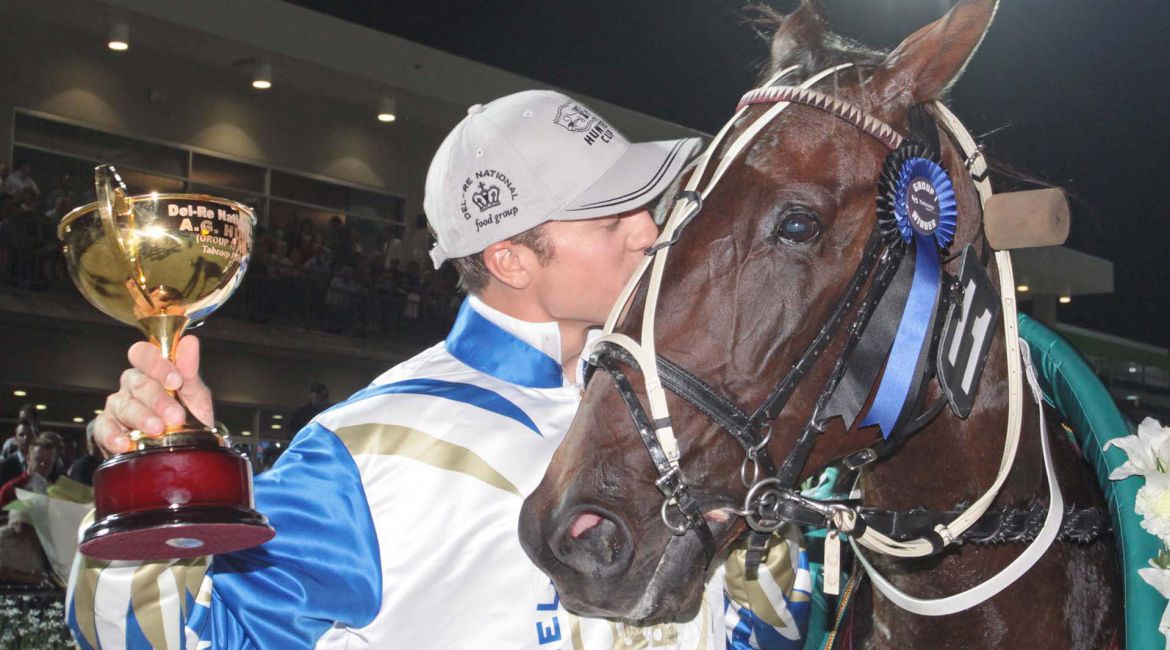 Christen Me's "like family" to Dexter Dunn and so the Kiwi reinsman pounced when the chance presented to ensure the Grand Circuit champion enjoyed the retirement he deserved.
The two-time reigning US driver of the year shared the story of their heart-warming reunion during episode two of The HRV HERO Show, which aired last night and celebrates Harness Racing Victoria's life-after-racing program.
"I got into this industry for the love of horses, for a job, it was an easy decision for me to make to claim (Christen Me), buy him and give him a good retirement," Dunn said.
"I felt like because he's from New Zealand and I'm from New Zealand, we had such a close connection, he's like family."
Dunn was a leading Australasian reinsman before heading to the US in 2018, including piloting Christen Me to Grand Circuit success in the Miracle Mile, Hunter Cup (pictured), Victoria Cup and Chariots Of Fire.
A sixth placing in the 2016 Blacks A Fake was Christen Me's last Australasian race before he was sold to race in the US at age nine.
Two years later, Dunn would get the bug to cross the Pacific and he couldn't help but keep an eye on his old mate.
"It was a lifelong dream. I grew up in a racing family and American racing, I had an extreme interest in it," Dunn told The HRV HERO Show. "(In 2018) it was now or never. It's been a lot of fun.
"(Christen Me's) a special horse, horse's like him only come along every now and then. He won most of the biggest races in Australasia for free-for-all pacers.
"I got to spend a lot of time with him and he had a lot of character, was a very kind horse. Obviously once he got sold over here I was still back in New Zealand. Once I came over here he was racing, he'd lost a step or two or maybe 10, but he was still racing and representing himself pretty good.
"He's 13 years old now and was at claimers at Yonkers up in New York and I wanted him to have a good retirement, a good life after racing, because he's a special horse. It was an easy decision to claim him."
After making the successful $30,000 purchase Dunn put Christen Me back in trainer Scott DiDimenico's care, and while he's still thriving on racing the driver said the multi-millionaire pacer's claiming days were over.
WATCH: DEXTER DUNN ON EPISODE 2 OF THE HRV HERO SHOW