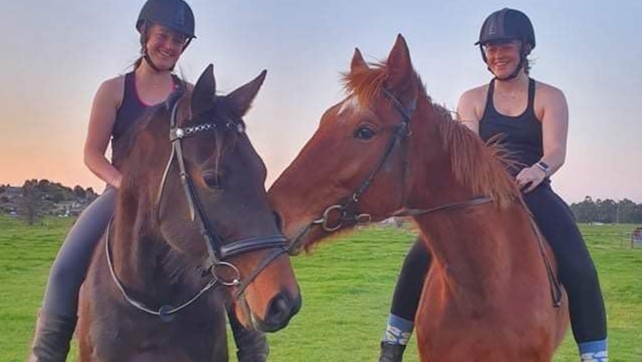 For the people who work behind the scenes in harness racehorse retraining, there's no feeling more wonderful than when the stars align and a loving home is offered to a standardbred looking to start a new chapter beyond the track.
For Nikki Cook, director of horse training operation Shory Park, the excitement was doubled recently, when two standies rolled out her front gate to embark on new adventures with the same family.
Charlotte and Isobell Cunliffe, sisters from Melbourne, were both looking for safe, low-fuss mounts to enjoy some social riding.
They found their way to the Shory Park website and got to know some of the horses. There were lots of beautiful prospects, engaged at various stages of ridden training and retraining post-racing, but it was a handsome standardbred who caught Charlotte's eye.
Prior to reaching out to Shory Park, Charlotte was already familiar with standardbreds. Having learned to ride at a trail riding facility, standies were the go-to choice for developing riders who needed a safe ride.
"Standardbreds were always the easy-going ones", Charlotte said.
"As someone who's not the most experienced rider, it was important I found a new horse I could trust. That's why I chose a standardbred.
"That's what I love the most about Winston; he's quiet and wants to please. He takes care of me and tries really hard in everything he does."
These sentiments were echoed by Charlotte's sister, Isobell, who appreciates her new standardbred Cruise's patient nature.
"Even if you only ride once every week or two, you can pick back up where you left off. That's the great thing about standardbreds, they're smart and don't require regular work. This really suits my lifestyle and it's remarkable to have built such a strong bond with my boy already", Isobell said.
The adaptability of the standardbred rings true in Cruise's story particularly, given the 10-year-old gelding's formidable career as pacer Cruisin Around, who notched nearly $300,000 in earnings.
Isobell considers Cruise's lengthy racing history to be quite the blessing in disguise.
"By purchasing a horse through an acknowledged retrainer who belongs to Harness Racing Victoria's industry retirement program HERO, I have been able to access a wealth of information about Cruise's past. It's really cool to be able to watch replays of his races and see him performing in such a different role to what we've been doing together," she said.
"HERO has been a crucial link, enabling me to source background information on Cruise and connecting me to a knowledgeable support network."
Being able to access information about each standardbred's past gives HERO retrainers, like the team at Shory Park, a greater ability to ensure a successful match.
This historical overview of each standardbred's unique quirks and talents makes a for a streamlined retraining process.
"Cruise hadn't had any formal ridden training when he came to us, but in under a week we were on board as he was just so relaxed through all our groundwork. We knew he was going to make the ultimate trail riding horse," Cook said.
"Cruise loved cruisin' around the farm and it was very apparent where he got his racing name from.
"To see a photo of Cruise and Isobell riding bareback after only owning him a few weeks, and then out trail riding with Charlotte and Winston, absolutely melted my heart and it was a good reminder of why we do this job."
Happy endings like Winston and Cruise are the backbone of the HERO program, which is undergoing an exciting period of growth.
With more reputable retrainers joining the HERO team, there will be an increase in the number of standardbreds being prepared for new homes upon retirement from racing in 2022 and beyond.
"Standardbreds are such a big part of our lives and important family members" said Charlotte, with a nod of agreeance from Isobell.
"My sister and I love being able to share our adventures together and being able to use our experiences to encourage other riders looking for a new horse to consider a standardbred. They're just the best."
If you're inspired to follow Charlotte and Isobell's advice, you can learn more about the wonderful standardbreds looking for loving new homes via the HERO website: www.hrvhero.com.au
WATCH CHARLOTTE AND ISOBELL IN THE LATEST EPISODE OF THE HRV HERO SHOW: