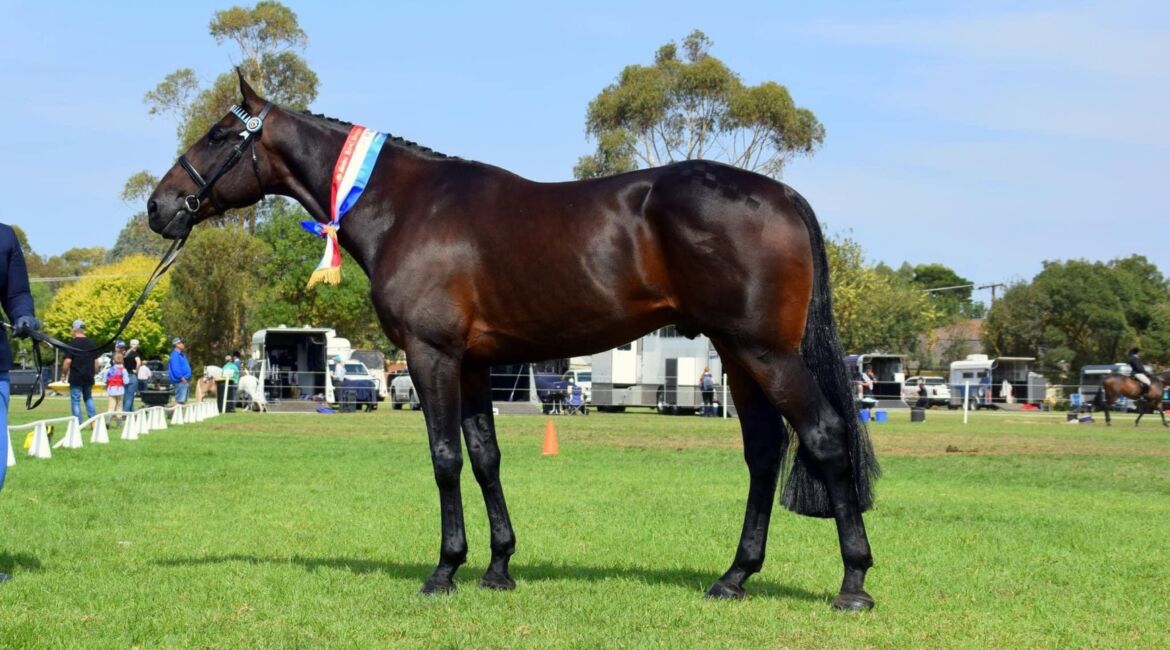 Growing up as a competitive show rider, Casey Leijen is the first to admit she 'wasn't really a fan' of standardbreds as a choice of riding mount.

But, across the five years working her way up the ranks from harness racing Stablehand to Licensed Trainer, Casey's perspective on the standardbred has completely transformed.

In fact, it was on her very first day at a new harness racing stable that a stunning black colt strode into the cross ties, immediately catching Casey's eye and causing a 'love at first sight' connection.

"Wally was just a picture and I just knew I had to have him when he retired", Casey recalls.

"I was told, jokingly, I wouldn't get him because he was never going to retire, but I knew his day would come and so it was just a waiting game".

Over the next couple of years, whilst patiently calling 'dibs' on Wally, Casey worked diligently to secure wonderful homes for many racing retirees.

"The people I work with in harness racing know I'm a rider. When the inevitable question pops up as to what to do with a horse when it retires, I'm one to put my hand up and say I can make something of them".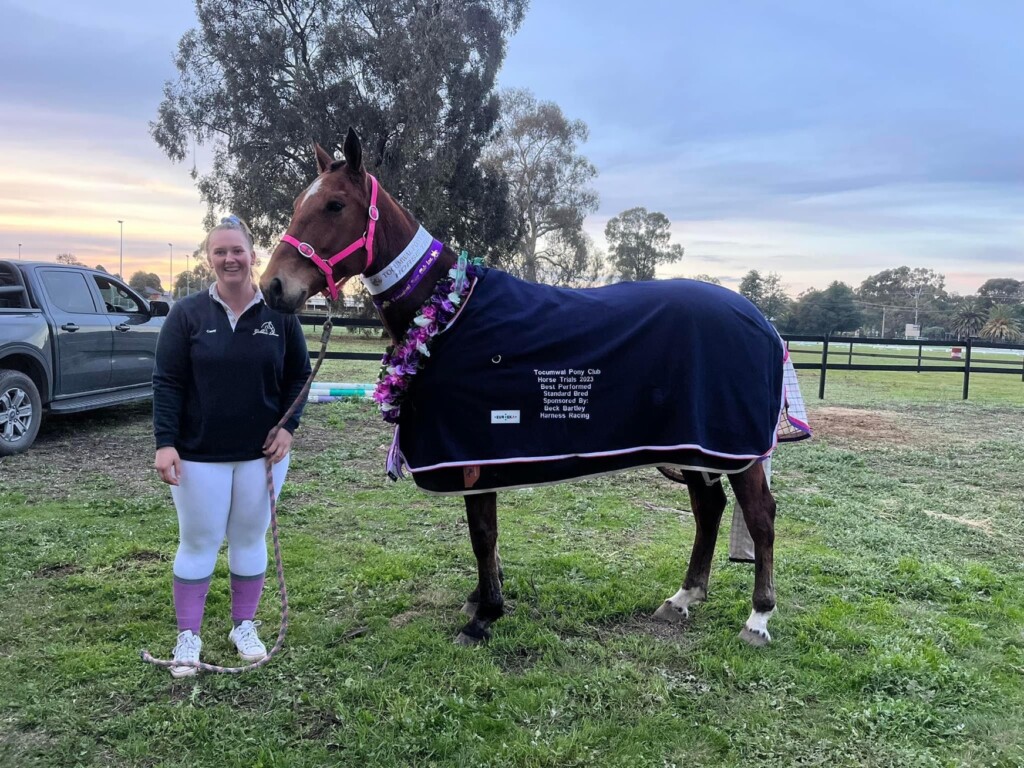 "Depending on who owns the horse, how busy the stable is, the horse's nature and whether they're sound or need some paddock rest, I make a decision as to whether the horse is to be started under saddle or rehomed as a companion.

"I take the horses I'm going to train under saddle home and ride them for a few weeks. I often know the horses quite well by this stage, having worked with them during their race training, which really helps.

"I've retrained horses for a range of different activities; some for showing, dressage and pony club, others just to safely take their riders around the block. I let each horse guide me as to what they were good at and enjoy".

With her Trainer's License in hand, Casey moved into a barn at the Shepparton Harness Racing Complex in early-2023 and busies her days managing her own stable of horses and helping fellow trainers boarding around her.

"I get up very early in the morning and try to get my own horses worked first. I then help Rebecca Bartley with her horses and any extras left after this", Casey explains.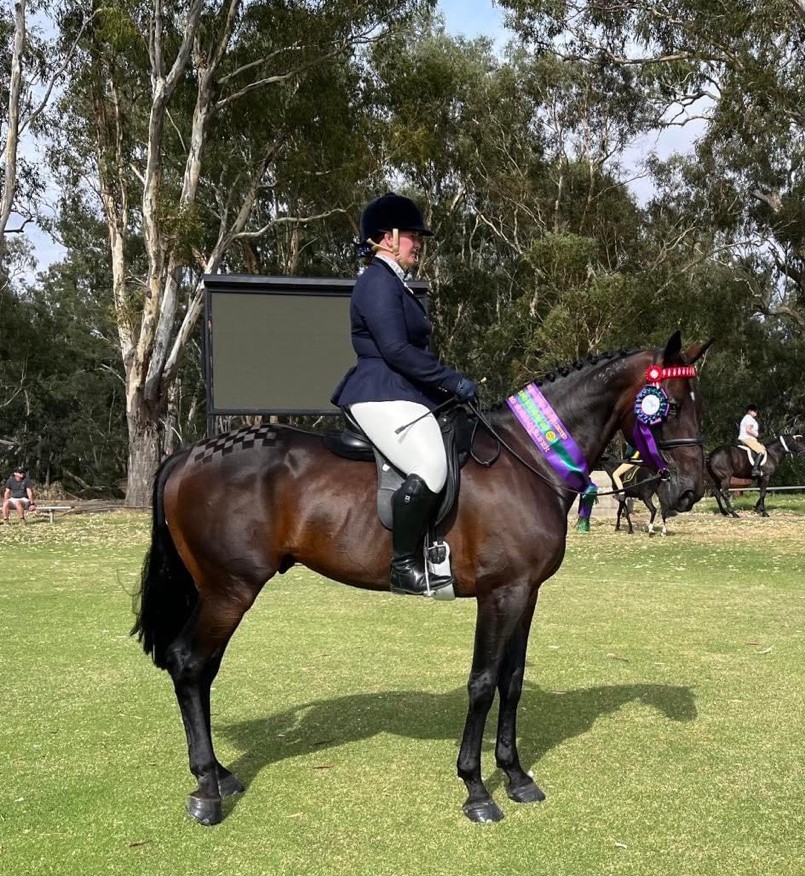 Once the racehorses are tended to, on non-racing days Casey finds some quiet time to work with her riding horses. This includes the retirees undergoing retraining and her beloved Wally, who has a string of successes to his name including many showing broad sashes and leading the Hunter Cup fields out on his sixth ever ride under saddle.

Currently, one of the retirees Casey is working with is 'super talented and kind' five-year-old mare Snowy, who was soaring over 85cm jump courses and dazzling local club riders with her impeccable behaviour at events, within her first dozen rides under saddle.

Trained in harness by Rebecca Bartley, Snowy is an example of the industriousness of the up-and-coming generation of harness racing trainers, who have identified an opportunity not only to place their racing retirees in fantastic homes, but to make a little money for chaff on the side.

"I have a couple of helpers in my stables who do an awesome job when it comes time to retrain and rehome our retirees", Rebecca explains.

"This includes Casey and my stablehand Emily Larcombe, plus I work in partnership with Steve and Anne O'Donoghue, with Anne starting a few of the horses she's owned under saddle herself before they've gone on to find wonderful homes.

"The typical arrangement is that we, as a training partnership, assume ownership of the horses upon retirement. We cover the stabling and upkeep costs and the girls put the time into retraining and showing the horses to prospective new owners. We then split the profit, which helps to cover costs and fund the next horses coming through".

This idea of racing operations utilising the talents of their stablehands and other contacts for assistance rehoming standardbreds is certainly not a new concept, with many stables having their go-to pathways beyond the track already well carved out.

With the demand for standardbreds as an equestrian mount steadily rising, inspired by the outstanding achievements of standardbreds dominating a variety of performance sports, finding new homes for ex-harness horses is becoming a much easier task than in previous years.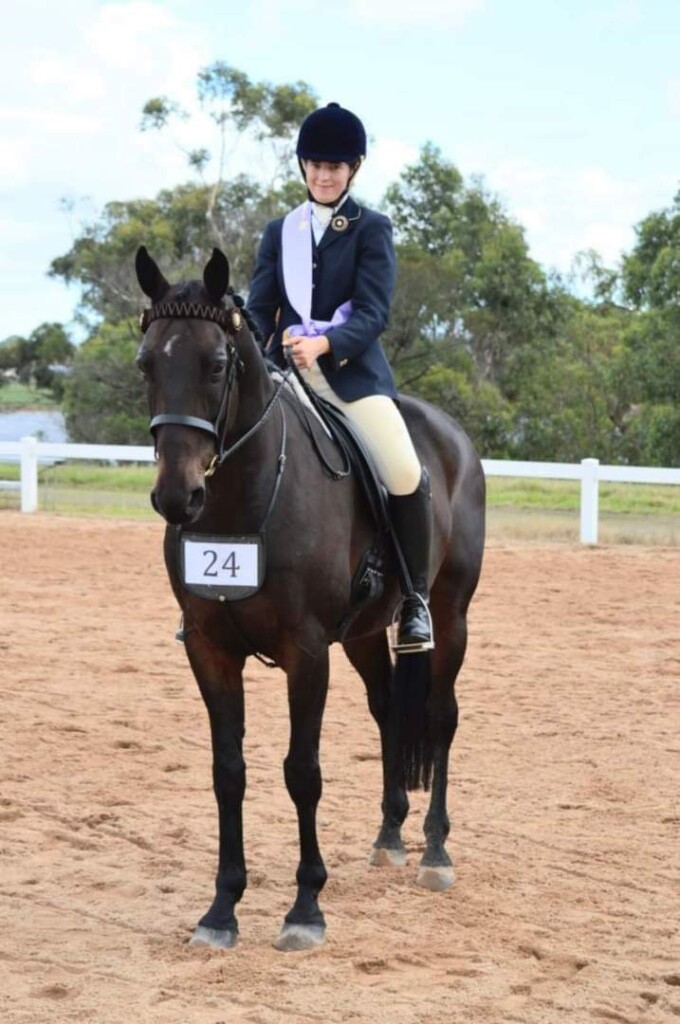 The average sale price of a standardbred riding horse has risen over time too, with horses once fetching a couple of hundred dollars now able to be retrained and rehomed for several thousand. 

This market shift opens up more options for racing operations lacking established rehoming avenues. Harness trainers can recommend to owners that retirees be sent off for starting under saddle, with a view for money garnered through the sale of the horse to repay the cost of having the horse retrained by a professional (a self-funded retirement plan, of sorts).

To assist with this, industry professionals are able to tap into the network of Hero Retrainers listed on the program's website, to engage their services directly via a private arrangement.

"Nearly all of the retrainers working with Hero run their own equestrian business outside of their Hero commitments. Sending a standardbred direct to a retrainer as part of a private arrangement is a clever way to skip the queue", explains Hero Operations Manager, Tara van der Minne.

"Hero Retrainers are located all around the state and are subject to routine welfare and property inspections, which offers great peace of mind to industry participants wanting to ensure that their special racehorses go into skilled, reputable hands".

You can view a list of Hero Retrainers, with new Affiliates set to join the listings in coming weeks, via the Hero website.