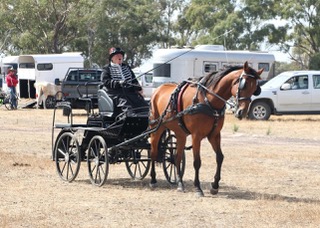 Carriage driving competitor Heather Dunn is the first to admit she'd never really considered taking on a standardbred.

But, as many wonderful life after racing stories begin, Heather's perspective was completely transformed when she came across a lovely young ex-trotter named Kohala (affectionately known as Bam).

Introduced to the gelding by her good friend Hilary Billett, Heather brought Bam home to fill the role of her primary carriage driving horse. The intelligent harness racing retiree was quick to win his new human over.

Bam and Heather shared many adventures together and Heather grew fond of his easy-going, trainable temperament and willingness to please.

Understanding the fundamental needs of herd animals, Heather liked to keep at least three horses in her paddocks.  This way when one horse was taken out to go driving, there were two left behind to keep each other company.

Initially Bam was paddocked with his friend Milo and another standardbred, also sourced through Hilary, named Waikare Aviator (known around the stables as Jet).  When Milo passed away, Hilary offered to assist Heather to find yet another standy to join her family and to provide Jet with company when Bam went out to events.
Jimmy Creek, as he was known during his brief career on the track, was offered for rehoming by his harness racing owners/trainers Jenny Johnson and Graeme Johannesen.

"Jimmy Creek is home-bred and we still have his dam Singing Creek and a few of his siblings", Jenny explains.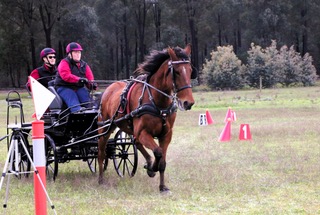 "Jimmy was a trotter and only had four race starts, one as a two-year-old in 2016 and three in 2018.  Jimmy's modest racing history was not through lack of ability; he was injury prone.

"As a two-year-old, we had Jimmy in work and another youngster which went on to win the 2yo Vic Sires Final in 2016. We considered Jimmy the better horse at the time, but he just never got a chance to prove it!"

"Jimmy had a few race preps after 2018, but did not get back to the track after more setbacks. We decided by 2021 that he would permanently retire and that he was sound enough to pursue a life as a riding horse or for carriage driving, as he was quiet, lovely natured and easy to get on with".

Although Jimmy's role was to offer companionship, his friend Bam was aging and began to struggle with the physicality of performance driving, especially circle work. Heather started to think about succession planning within her team of standies.
"For the first year or so, Jimmy was turned out and just enjoyed some time being a horse and pottering around the paddocks", Heather explains.

"When Bam started to show signs of slowing down, I knew it was time to find my next carriage partner. I thought Jimmy might make a good option, so I asked my friend Hilary if she could come around so we could test him out.

"We began by driving Jimmy in a jogger first, to keep thing familiar for him and so we could see what he knew.

"Jimmy was really relaxed and we decided to move him straight into the four-wheeler carriage the next day, just to see how he went. He didn't bat an eyelid and took everything in his stride. We were off and haven't looked back since!"

Across his first six months training in carriage, Jimmy has simply flourished.

"Jimmy' transition to carriage has been fantastic. He's such a lovely horse; very gentle and willing", says Heather.

"Jimmy's shown remarkable trainability, especially with his transitions and ability to adjust his speed. He can go quite fast and then as soon as I ask him to come back he's very responsive and light".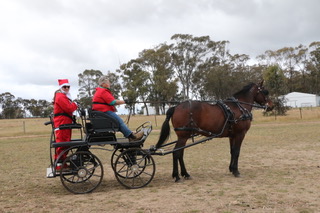 Although they've only been working together for a few months, Jimmy and Heather have already been out to a few events and done incredibly well.

The pair attended several events across winter, including the Oaklands Indoor/Outdoor Qualifier held on held on Saturday 29th July and the Central Highlands Indoor/Outdoor Qualifier at Huntley across the weekend of the 9th and 10th of September.

At the Huntly competition, Jimmy placed second overall for the Horse over 149cm on Saturday, before finishing first overall in the same category on Sunday. 

On September 10th, the 2023 Indoor/Outdoor Finals were held again at Huntly.  At this event Jimmy took out 2023 Reserve Champion for Horse over 149cm.

"The Indoor events were a real challenge, as the arenas are so small and the turns really tight. Jimmy is still learning to balance and still has a way to go, but he's coping well and seems to be really enjoying himself!", Heather explains.

"Jimmy and I have already qualified for the Dressage State Championships and he's booked in to attend his first CDE (Combined Driving Event) in late-October. Then in November he is off to the ABSS Spring Carnival Horse Show in Bendigo for the Harness Class."

"I'll make sure Jimmy has some time off between events, so as not to overload him, but he's loving the variety and having a job to do.

Jenny and Graeme have shared in the joy of seeing Jimmy thriving in his new career beyond the track, attending several of his carriage competitions to cheer him on from the sidelines.

"I have been to see him in a couple of events and he seems to love it!", Jenny says.

"It's great to see Jimmy have a productive life and I am glad he has found a lovely home with Heather. She has been a great advocate for the standardbred at her events.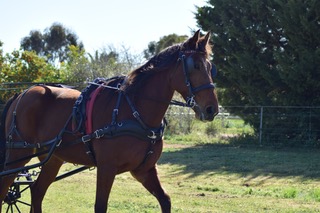 "Earlier this year, we also re-homed Jimmy's full brother as a pleasure riding horse. He is doing really well and we get regular updates and photos from his new humans". Having had such wonderful experiences with her standardbreds, Heather is quick to dispel the myths and sterotypes surrounding the breed.

"I think people worry that because standies raced in a sulky this is all they can do. But they are so adaptable and easy to transition over into carriage driving gear.

"Additional to my own experiences, I have several friends who compete with standies and they're doing really well, even with pacers and horses who retired after long racing careers.

"I'd really encourage people involved in carriage driving to consider giving a standardbred a go, as they are super smart and really are built for it!" "In the past, I never had much time for standardbreds, as I didn't know much about them. Having now owned three of them, I've gotten so into the standies I don't think I'll ever own anything else – I just love them!"