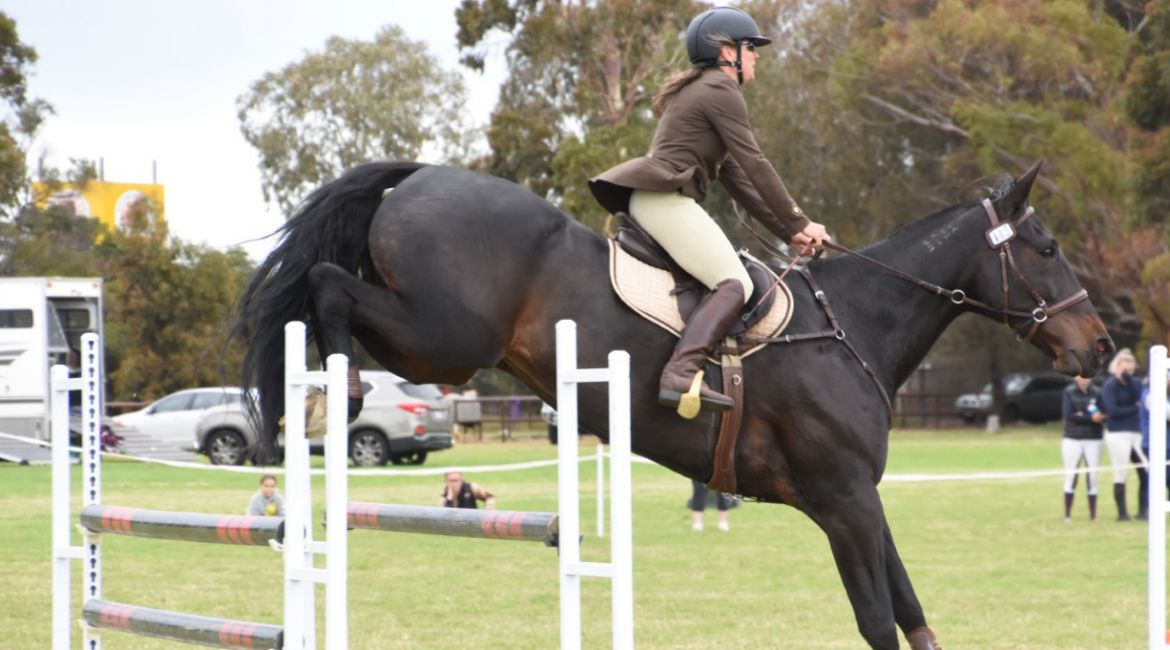 With a long-standing affinity for retired racehorses and an outstanding track record (pun intended) of transforming humble retirees into equestrian performance powerhouses, Lisa North is an exciting new addition to the HRV Hero team.
Having moved from the UK to Australia in 2005 and with her children leaving the nest soon after, Lisa found herself drawn to get back into riding; a hobby she'd never pursued competitively as a junior.
"I decided to get back in the saddle in my early 40s after a break of around 20 or so years," she said.
"I got myself an off-the-track thoroughbred and joined my local HRCAV, which was wonderful as we didn't have clubs like this back where I lived in the UK.
"It was a lot of fun and I started dabbling in a bit of dressage and jumping. It didn't take me long to get hooked and that's when my competitive career really began."
As Lisa was exploring exciting new equestrian opportunities, her husband, Simon, decided he was keen to join his wife and get into riding. Being a tall chap, the criteria for Simon's new horse was something with long legs and a kind nature.
That's exactly what Lisa and Simon found when they stumbled upon an ad for Banjo; a whopping 17.1hh pacing bred standardbred that never made it to the racetrack.
"Banjo was a bit of a 'before shot' when we got him, but I knew from the very first ride that he was an absolute sweetheart and I fell in love straight away," Lisa said.
"We brought Banjo home, but soon realised he was a bit of a mismatch for Simon. He was very gentle, but a few early hiccups meant that I found myself riding Banjo more and more. I decided to take him out to riding club and see what he could do.
"Our first event was in Level 4 at HRCAV Top Teams Trophy Dressage, in 2013. Banjo went out there and he blew me away by winning his section, in a large field of horses.
"I couldn't believe it; he just tried so hard, as he has during every single ride since."
Over the next few years, Banjo and Lisa would go on to achieve some tremendous feats in their HRCAV career, including:
2014: Hidden Valley HRCAV Level 4 Dressage Jackpot winners and overall Best Performed Horse across all levels.
2015: Gisborne HRCAV L3 overall Jackpot winner (1st place in both dressage tests).
2015/16: HRCAV Top 10 horse for Horse Trials, across all levels.
2017: Overall Champion Level 2 Combined Training Equestrian Remedial Series.
2018: Overall L2 Show Jumping Champion, Dunnolly.
2019: Riddles Creek PC Horse Trials 95cm (Level 2) 2nd place.
The pair also proudly represented standardbreds and showcased the talents and versatility of the breed at Equitana (2016), the largest horse exhibition in Australia.
(As a side note, HRV Hero will host a stall at this year's Equitana from November 10-13 at the Melbourne Showgrounds, which will provide an opportunity for the equestrian public to engage and learn more about standardbreds. Keep an eye on hrvhero.com.au for more information).
One of Banjo and Lisa's later triumphs on the competition circuit was bringing home the Champion sash across a series of six Combined Training events as part of the Equestrian Remedial Series.
Combined Training events require a very complex dressage test and fast-paced show jumping course to be completed, with Lisa and Banjo winning at Level 2 (95cm).
Banjo and Lisa's journey was not only decorated with ribbons and achievements, but enriched by the special friends they made along the way.
Some of their most active supporters were the members of the Central Standardbred Riding Club, located about half an hour from Lisa's Lancefield farm in Wandong.
"The Standardbred Riding Club is full of the most dedicated, wonderful horse people I've had the pleasure of knowing," Lisa said.
"They give so much and do a fantastic job of showcasing the talents of the breed."
Although his glory days are behind him now, Banjo has a forever home with Lisa whenever he's ready to retire.
"Banjo has always been Mr Reliable and the horse I pull out from the paddock whenever we have a beginner friend, or even the neighbour's grandchildren, wanting to take a ride.
"Banjo is currently on lease with a lady who was initially quite nervous and looking for a safe, trustworthy horse to boost her confidence. True to form, Banjo has been perfect for this role and he's still enjoying lighter riding activities into his early 20s."
Whilst Banjo's equestrian journey has moved into a new phase, Lisa's soft spot for standardbreds will continue via her new role as a Hero Acknowledged Retrainer.
"I'm really pleased to be able to provide some education and opportunities to more standardbreds exiting racing," she said.
"I have a limited capacity in how many horses I can take on, as I'm still working part-time and have a small property already well-stocked with horses, but I'm glad to be in a position to take on one standardbred at a time and provide them with the foundation training to go on and work with riders of all levels and interests.
"I think that's a real key for me; knowing that sometimes a green horse and rider can find it really tricky to get going, but if someone experienced can step in and provide those early skills, then horses with quiet, willing temperaments like standardbreds can partner up nicely with novice riders and enjoy a lot of fun and success.
"I know I'm not making a huge impact overall on the number of standardbreds exiting racing, but I take a lot of pride in knowing I can make a real difference in the lives of the horses who pass through my door. That's something really special to me".
You can follow Lisa's retraining pursuits via her Facebook page Park View Drive Equestrian